1/15/2008
Washington: Referendum Would Force Congestion Reduction
Voters in Washington state may have the opportunity to force government to spend transportation dollars solely on congestion reduction measures.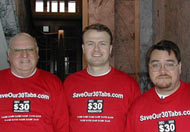 Voters in Washington state may have the opportunity to vote on a measure that would force local officials to implement a sweeping set of congestion reduction measures. Voters Want More Choices, a group that has already enacted eight statewide ballot measures, this month introduced Initiative 985, the Reduce Traffic Congestion Act, to cut the amount of time motorists sit idle at signals and in traffic jams. One of referendum's three chief sponsors, Tim Eyman, says he is tired of hearing politicians say that even though roads are a priority, nothing can be done because of a lack of money.
"There is plenty of revenue," Eyman explained to TheNewspaper in an interview. "When something is the first priority of the public, it should be the first dollar spent. It's all about reducing congestion without raising taxes."
Many of I-985's specific proposals were drawn from an October 2007 report by State Auditor Brian Sonntag (D). Eyman expects the most immediate and positive impact would come from a provision forcing city and state traffic engineers to synchronize traffic lights at high-traffic intersections. The benefit, according to Sonntag's report, is a reduction in travel time, emissions and fuel consumption of between ten and twenty-five percent at very little cost. Many local engineers prefer to introduce delays into signal timing as a method of "traffic calming" that forces motorists to stop at every signal.
"Our recommendations focus on a philosophical shift in Washington State Department of Transportation's priorities," Sonntag wrote in his audit report. "The goal of signal coordination is to ease traffic flow through a series of intersections at a predetermined speed in order to minimize stops."
The Reduce Congestion initiative empowers the state auditor to monitor the performance of any engineering changes to ensure the methods are accomplishing the goal. The costs for these measures would be paid from a new "Reduce Traffic Congestion Fund" created by locking away certain revenues currently collected from motorists but diverted to
general purpose spending on social programs
.
Specifically, fifteen percent of sales tax revenue on automobile purchases would be devoted to the anti-congestion fund -- at present, 100 percent of this revenue is spent on purposes unrelated to transportation. Cities padding their municipal budgets with profit from red light cameras would also have this money diverted to the fund. Finally, the initiative would overrule the state law that dedicates one percent of every transportation project dollar spent into the purchase of "artwork," instead devoting this money to the anti-congestion fund.
Besides signal coordination, the only other acceptable uses of the anti-congestion fund money include increasing funding for roadside assistance services to clear accidents quickly and adding general purpose lanes to existing or new roads. The fund cannot be used to pay for
trolley cars, landscaping, transportation-related museums, bike paths or any of the other purposes
commonly used to spend gas tax dollars on items that do nothing to improve the driving experience for motorists. A final provision of the referendum would open high occupancy vehicle (HOV) carpool lanes to general purpose use during weekends and off-peak hours.
"We want to make it better for everybody rather than make it more frustrating to drive," Eyman said.
Voters Want More Choices must collect 225,000 signatures to qualify for the November ballot. Already, Eyman says he has received more overwhelming response to this idea than any of his prior initiatives.
A complete copy of the initiative is available in a 1.2mb PDF file at the source link below. More information on the initiative can also be found at
ReduceCongestion.org
Source:

Initiative Measure Number 985
(State of Washington, 1/14/2008)
Permanent Link for this item
Return to Front Page