9/8/2007
Los Angeles Police Look to Resume Car Confiscation
Los Angeles, California police expected to resume car seizure police which has generated $14 million in revenue.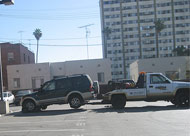 After two-week moratorium, the Los Angeles, California Police Department (LAPD) is set to resume confiscating cars from motorists who are not carrying a driver's license. Last year, car confiscation brought LAPD $14,157,344 in revenue from 175,285 seized vehicles. Of this amount, about 47,000 were taken over license issues.

Last month, Police Chief William J. Bratton put a halt to the practice after a legal challenge was filed based on a Ninth Circuit Court of Appeals decision that found that just because a statute allows a car seizure, it does not automatically become a reasonable for the purposes of the Fourth Amendment. The court found that there was no reason for police to seize a legally parked car when a licensed driver was present.

Even though the decision was made nearly two years ago, City Attorney Rocky Delgadillo claimed that after "studying" the decision LAPD could resume seizures even when the vehicles could be claimed by other licensed drivers or safely parked.

"I anticipate that we'll be going back to what we were doing," Bratton told the Los Angeles Times newspaper. "Impoundments are necessary. It's the law in the state of California."

The city collects $101.50 per hour for towing and $945 for thirty days' storage, plus $31.50 for each additional day and a $48 release fee. All this is topped with a ten-percent tax.