2/10/2007
Michigan: Car Seized Despite Legal License Plates
Michigan State University police seize a car belonging to a student that had valid license plates.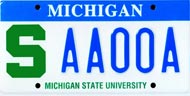 Police seized the vehicle belonging to a Michigan State University college student claiming her license plate, which had not expired, was illegal. Elaina Pankow, 21, was driving last month on plates that were valid until February 9. Her mother, Renee Pankow, 51, bought a set of new plates for all of the family vehicles because several of them were about to expire and the state was changing the license plate design to favor photo enforcement. The mother planned to hand over the new plate to her daughter during a planned visit on January 26.

Just one day before, however, University police pulled over Elaina Pankow, claiming her tail light was out. Police arrested her after a database only gave the new plate number as valid for the vehicle. The 21-year-old was searched and treated like a criminal while her car was towed away.

"It just floored me," Renee Pankow told the Royal Oak Daily Tribune newspaper. "I was so upset. I started calling everybody -- the police, the secretary of state -- and everybody blamed everybody else. If I had known about all this, I would have mailed the plate to her the day I bought it."

Police dropped misdemeanor charges against Pankow, but they stand by their decision after collecting $85 to release her vehicle. Pankow faces a large fine for driving with improper plates.