Related News
Tennessee Legislature Scales Back Future Speed Cameras
Tennessee Lawmakers Water Down Traffic Camera Ban
Texas: Red Light Camera Firm Makes Second Attempt To Block Vote
Ohio Judge Puts Freeze On Traffic Camera Limitation For Toledo
Ohio Supreme Court Takes Up Another Speed Camera Case
View Main Topics:


Subscribe via RSS or E-Mail
Back To Front Page
6/12/2006
Scottsdale, Arizona Speed Cameras to Make $20 Million
A set of six speed cameras on a Scottsdale, Arizona freeway will make $20 million this year.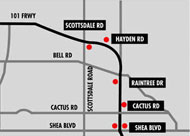 Speed cameras on the Loop 101 freeway in Scottsdale, Arizona have brought in a minimum of $5,268,763 in revenue in the first three months of operation. Last month, violations were up nearly twenty-five percent over the first thirty days of operation, contrary to the city's initial assertions that the devices would improve driving habits and result in a lower number of violations.


Period
Violations
Recorded
Feb-Mar
20,763
Mar-Apr
29,402
Apr-May
25,062

Because unclear photographs by law cannot be used to prosecute a vehicle owner, Australian camera operator Redflex has been able to turn only 44 percent of the alleged violations into tickets worth a minimum of $157 each. As of May 31, 33,559 of these citations have been processed. By contract, Redflex will receive a bounty of $1,425,586 for issuing these tickets. As the foreign vendor has yet to recoup the $1.6 million it invested in camera equipment for the project, it does not yet have an incentive to adjust camera settings to achieve a reduction in the number of tickets issued.

Scottsdale has more than recovered its $505,000 investment in the project. Although the program is on track to make $20 million a year, it has been plagued by a number of embarrassing incidents:

Source: 101 cameras not reaping fund target (Arizona Republic, 6/10/2006)

Regional News:
Other news about Scottsdale, Arizona



Permanent Link for this item
Return to Front Page