3/15/2019
Oklahoma Senate Near Unanimous In Banning Red Light Cameras
State Senate in Oklahoma passes bill to ensure Oklahoma never gets red light cameras.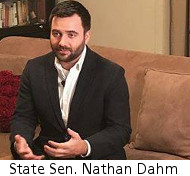 The Okalahoma Senate voted 46 to 1 last week to ensure red light cameras will never make an appearance on Oklahoma roads. The legislation authored by state Senator Nathan Dahm (R-Broken Bow) and Representative Lewis Moore (R-Arcadia) would block any government entity from using intersection cameras in the future.

"No state, county, municipal or political subdivision may contract with any private corporation to provide for the use of any photo monitoring device to detect any red light violation," Senate Bill 260 states.

The measure does not address speed cameras, which are also not used in Oklahoma, despite a claim to the contrary from the state Department of Transportation (view report in a 600k PDF file). Last year, an employee of the city of Enid, population 50,000, became confused and told the state's researchers that a speed camera was in fact being used.

"Only in one case did the jurisdiction deploy any type of automated device and it was a speed enforcement camera system rather than a red-light system," the Oklahoma Department of Transportation claimed. "The Enid Police Department (Enid PD) currently uses this system and it is owned by the jurisdiction and Enid PD does not follow the operational guidelines put forth by DOT."

It turns out, the report was based entirely on a misunderstanding.

"The Enid Police Department does not have a speed camera program or any such devices in service," Enid police captain Tim Jacobi told TheNewspaper in an email. "We have two speed indicator signs that radar oncoming traffic and display the approach speed on a large lighted display. These are similar to what you may encounter as a warning to slow down when entering a construction area. We use our signs to act a deterrent in neighborhoods and other areas in which we receive speeding complaints from citizens."

The warning signs do not issue tickets. If the Oklahoma House and Governor Kevin Stitt (R) join the Senate in endorsing SB260, the red light camera ban would take effect November 1 and Oklahoma would join the growing number of states that have banned red light or speed cameras. Arkansas, Maine, Mississippi, Montana, Nevada, New Hampshire, New Jersey, South Carolina, South Dakota, Utah, West Virginia and Wisconsin have effective statutory bans on automated ticketing machines (view laws). In Alaska, Indiana, Michigan, Minnesota and Nebraska various judicial rulings have kept cameras out.

A copy of the bill is available in a 50k PDF file at the source link below.