10/14/2015
Australian Auditor Sings The Financial Praises Of Hidden Traffic Cameras
The auditor general of Queensland, Australia recommends the use of hidden speed cameras to enhance the governmental revenue stream.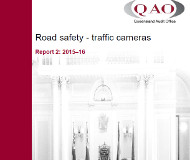 Queensland, Australia's auditor general is an enthusiastic supporter of photo enforcement. Even though the cameras have issued 3,760,962 tickets generating $667 million in profit for the state government over the past seven years, acting Auditor-General Anthony Close wants to boost those figures. In a report released Tuesday, Close classified the widespread inaccuracy of automated number plate reader (known as ANPR or ALPR) as an impediment to maximizing revenue.

"The [Department of Transport and Main Roads] ANPR cameras which are in place can only correctly interpret infringements 19.1 per cent of the time," the audit explains. "This leads to a great deal of manual checking... The high percentage of misreads is due to limitations in the optical character recognition technology, for example reading a 'Q' as an 'O.' The number of false positive reads -- where an unregistered vehicle's plate is interpreted as a registered vehicle's plate -- is not known."

Despite the errors, the state government has rapidly expanded the number of cameras on the road. As a result, the most recent fiscal year saw the issuance of 841,401 tickets worth $167 million. Speed camera tickets generate between $157 to $1099 each. Over three-quarters of the citations fell into the most minor category of offense, traveling less than 13 km/h (8 MPH) over the limit.

Even the ANPR cameras are evaluated by their potential to generate cash through the issuance of $91 citations to individuals who are a few days overdue on their registration payment or $364 tickets for "incorrect placement" of registration plates.

"The [Department of Transport and Main Roads] developed project plan for the ENACT project outlines its expected benefits as... a way to ensure the revenue stream for government is not compromised through a reduction in registration revenue," the report explains.

The audit's primary recommendation is to hide more speed cameras to surprise motorists for another $6.7 million in profit.

"The Queensland Police Service have chosen to remain highly visible, in part to avoid claims of revenue raising, and has moved away from randomized elements of deployment scheduling," the audit states. "Had the QPS deployed 30 per cent of mobile speed cameras covertly in 2014–15, we estimate that approximately 33,879 additional infringement notices would have been issued"

A copy of the report is available in a 1.2mb PDF file at the source link below.