7/1/2015
Embattled US Redflex Chief Wins Employment Bias Suit
Fired Redflex employee appeals loss in lawsuit against Karen Finley alleging anti-Australian bias.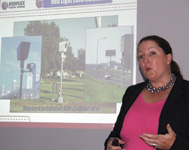 Former Redflex US chief Karen Finley is guilty of corruption and bribery, but she is not guilty of anti-Australian bias. That was the finding of US District Judge Peter C. Economus who threw out Catherine Petzel's employment discrimination lawsuit against Finley and Redflex. Petzel says she was fired from her job as a photo ticketing salesman because Finley thought Petzel's thick accent reminded potential customers that Redflex is an Australian company.

Finley is not out of the legal woods yet, as Petzel last week asked the Sixth Circuit US Court of Appeals to overturn Judge Economus. Petzel had been hired in 2009 to work under Redflex regional sales director Mark Etzbach and executive vice president Aaron M. Rosenberg, who has since admitted his role in bribing local governments at Finley's request.

In 2011, Petzel failed to convince any local government in her territory, Ohio, to sign a contract for automated ticketing machines. Rosenberg warned her that she would be fired unless she signed a city like Youngstown, Waterloo or Norwalk. Petzel's peers, Darren Kolack and Charlie Buckels, also failed to ink deals and were put on a "performance improvement plan" (PIP).

"If your performance doesn't improve over the next several weeks and if we are not able to execute two contracts or have formal competitive awards with council ratification to commence negotiations with Redflex, we will need to terminate you effective December 31st," Rosenberg wrote Petzel in a December 1, 2012 email.

Buckels landed two deals, saving his job. Kolack failed to meet his targets and was transferred to another division. Petzel failed to meet her targets and was fired. Petzel says she was treated differently because she is a woman and because company officials actively blocked her from meeting sales targets. The Equal Employment Opportunity Commission gave a green light to Petzel's lawsuit, but a federal court saw no need to proceed with a trial. Five of the six male, non-Australian employees who failed to meet their sales targets were pushed out of the company. The only exception was Kolack.

"The court finds no evidence that Redflex violated its policies by placing Petzel on a PIP or by transferring Kolack," Judge Economus wrote. "Redflex had decided not to pursue contracts in a significant portion of Kolack's sales territory due to the negative political and legal climate, and Kolack's past contribution of eleven executed contracts indicated his superior sales ability."

In a deposition, Finley testified that her concern over Petzel's accent was limited.

"At one time when she was first hired, we were in the midst of all that, getting a lot of bad publicity because we were an Australian company," Finley explained. "I think I might have asked: Does her being Australian add to that? No. Okay, fine. That was as much as I ever asked or heard."

Redflex competitor American Traffic Solutions emphasizes its US ownership to gain a competitive advantage among city councils that prefer to "buy American." Finley explained that when she referred to "the Australians" and their inability to deliver products on time, she was not making a derogatory statement.

"[This was] not anything more than my frustration with their delivering the product," Finley said. "It wasn't anything to do with race... if they would have been in Texas, I would have been just as frustrated."

Judge Economus concluded that no reasonable jury could look at the facts and see this as discrimination. Lawyers in the case will attempt to mediate the appellate court dispute in a telephone conference scheduled for July 15. A copy of the Judge Economus ruling is available in a PDF file at the source link below.