3/25/2011
Study Shows California Stops Not Dangerous
Rolling right turns account for eight-hundredths of a percent of all accidents in Los Angeles, California.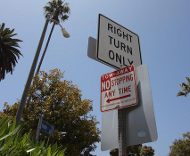 California's red light cameras for the most part issue the greatest number of citations not to vehicles blowing straight through a red light, but to those making a rolling right turn on red. In Los Angeles, the number of potential California stop citations at photo enforced intersections is worth over $30 million a year. At the intersection of DeSoto and Roscoe, 97 percent of photo tickets are issued for right-hand turns on red. At Sepulveda and Victory, the figure is 88 percent.

In a study released yesterday, the motorist activist group Safer Streets LA examined whether these turns are actually dangerous. The group's executive director, Jay Beeber, used the California Highway Patrol's Statewide Integrated Traffic Records System to gather collision data for the years 2002 through 2009. These accident reports specified the primary cause of each accident, including collisions caused by failing to yield while making a right-hand turn and those who failed to stop while turning.

The data show that the City of Angels sees about 56,000 accidents each year. Of these incidents, only 45 were caused by rolling-right turns. Another 41 collisions were caused by failing to yield after coming to a complete stop.

"This suggests that when making a right turn at a red light, it is not the prior stop which determines whether an accident will occur, it is whether or not the driver yields appropriately," Beeber wrote.

The study calculated that right-turn collisions accounted for 0.08 percent of all crashes -- fewer than the number of collisions caused by opening a car door into oncoming traffic.

"This again suggests that the rolling-right-turn does not present a significant hazard to other motorists, pedestrians or bicyclists," Beeber wrote.

According to Los Angeles Police Department data, a total of 48,790 rolling-right turns were recorded at the thirty-two camera locations over nine months. Extrapolating to the number of intersections in the city, about 15 million California stops are made each year. Based on the citywide collision data, the study estimated that one could make 345,000 boulevard stops before having an accident. These findings are consistent with an analysis of national right-turn accident data (view report).

"The millions of taxpayer dollars the City of Los Angeles spends annually on the photo red light program could be put to better use than giving thousands of otherwise law-abiding citizens tickets of $466 each for a technical violation that rarely results in any type of accident," Beeber concluded.

A copy of the study is available in a 130k PDF file at the source link below.