3/11/2011
Missouri Expands Unpopular Freeway Variable Speed Trap System
Freeway speed limits will drop as low as 10 MPH under new Missouri freeway variable speed limit program.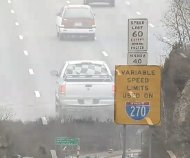 The Missouri Department of Transportation (MoDOT) announced Wednesday that it was expanding a system for lowering speed limits on the freeway, despite its own surveys showing the public has a "high level of dissatisfaction with the system." A study conducted on behalf of MoDOT by the Missouri University of Science and Technology included a few positive statistics about the performance of Variable Speed Limits, but the overall conclusion was that the program failed to provide the promised benefits.

In May 2008, MoDOT installed a Variable Speed Limit system on sections of Interstate 270 and Interstate 255 in St. Louis. Using electronic signs, MoDOT officials lowered the speed limit from 60 MPH to as little as 40 MPH throughout the day in response to changing conditions. The goal was to make traffic speeds more consistent to reduce congestion. In practice, however, the system frequently displayed a low speed limit when the road was clear and the 60 MPH limit in bumper-to-bumper traffic. Big rig trucks driving in the right-hand lane frequently blocked the view of the lowered limit sign, setting up motorists for hefty speeding tickets for driving as much as 20 MPH without their knowledge.

As a result, 79 percent of the public believed the program did nothing to reduce travel times. A full 65 percent want the program eliminated, and 71 percent think the speed limit should be raised to 70 MPH. Police officers in the area were equally unenthusiastic about the project.

"Over three hundred law enforcement officials completed paper surveys," the study reported. "Law enforcement officers also reported negative responses to the VSL. They do not believe that it has reduced the number of crashes, alleviated stop and go traffic, or reduced congestion. Moreover, they overwhelmingly believe that it has been ineffective in increasing driver compliance with posted speed limits. The vast majority report that it should be eliminated and not considered for expansion."

MoDOT touted the slight reduction in travel times found in three of the four segments analyzed to declare the program a success. It also cited accident reductions on Interstate 270, even though 69 percent of police officers surveyed thought the program did nothing to improve safety. Beginning in July, MoDOT will use the electronic signs to lower the speed limit down to 10 MPH. The new signs will be "advisory only," meaning police will not issue citations to anyone driving under 60 MPH.

A copy of the study is available in a 1.6mb PDF file at the source link below.