7/25/2007
Raleigh, North Carolina Prepares to Dump Red Light Cameras
Facing the potential of owing millions of dollars to the state school system, Raleigh, North Carolina lays the foundation for dropping red light cameras.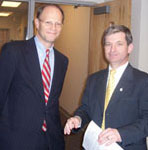 Since the city of Raleigh, North Carolina introduced red light cameras it has failed to direct the clear proceeds of its ticketing program to the Wake County Schools, as required by law. Late last month the state Supreme Court affirmed the State Court of Appeals ruling that found cities must hand over 90 percent of the gross revenues from any ticketing program to the state schools, as required by the state's constitution (read opinion).

"The clear proceeds of all penalties and forfeitures and of all fines collected in the several counties for any breach of the penal laws of the state... shall be faithfully appropriated and used exclusively for maintaining free public schools," Article IX, Section 7 of the North Carolina Constitution states.

Despite collecting $872,000 in automated fines within Wake County, Raleigh thumbed its nose at the court and refused to pay the schools anything. Instead, it allowed scandal-plagued camera operator ACS keep $748,000 while the city kept the rest. With a legally unsustainable position, Mayor Charles Meeker made it clear he is looking for an escape.

"If the cameras aren't really reducing the accidents, particularly the serious ones, there really is no point in having them in place," Meeker in an interview with WRAL-TV.

According to an independent study of Greensboro's red light camera program, accidents increased where cameras were used.

"The results do not support the conventional wisdom expressed in recent literature and popular press that red light cameras reduce accidents," the Burkey-Obeng report concluded. "Our findings are more pessimistic, finding no change in angle accidents and large increases in rear-end crashes and many other types of crashes relative to other intersections."

So far, Charlotte, Fayetteville, Greensboro, Greenville and High Point have shut down their red light camera programs after the court ruling made the devices unprofitable.