10/12/2006
UK: Software Creates Automated Perjury Charges
Facial recognition software is used to automate perjury charges for those attempting to challenge speed camera tickets.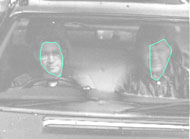 Thames Valley, UK police have taken the next step in automated policing. A specialized team has begun using facial recognition software to compare speed camera photographs to digitized license plate records. The analysis is used to trap motorists who issue a declaration that they were not driving the vehicle photographed by a speed camera and therefore not liable for the offense.

Unlike in the US where photos are always mailed out with citation notices, UK speed camera officials often withhold photographic evidence or charge the motorist for access to the pictures.

Constables Pat Knight and Carl Lewis are using this to bring lucrative cases against anyone who issues an incorrect statement. The officers are part of a team dedicated solely to investigating speed camera ticket challenges.

"I'm like a terrier," Knight told the Banbury Guardian newspaper. "When I get my teeth into something I don't let go and I'll keep coming after offenders until they're caught and punished."

The punishments for the false declaration can generate significant revenue, including a £5000 (US $9275) maximum fine and permanent automobile confiscation. Other punishments include up to two years in prison and bans on driving.