8/2/2006
UK: Meter Maids Target Emergency Vehicles
Meter maids are issuing parking tickets to vehicles involved in rescue attempts in Sunderland, UK.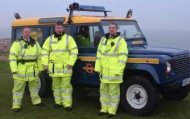 If an ambulance in Sunderland, UK is on the way to the scene of an emergency, the driver is expected to take the time to find a proper parking place or to fill the parking meter before performing any lifesaving duties. Volunteer Life Brigade members have been complaining of harassment from meter maids as they perform their coastal search and cliff rescue operations.

"I telephoned the head office to complain and was told that the emergency vehicles would be given parking tickets if they weren't on an emergency call," volunteer Fred Roberts, 64, told the Sunderland Echo newspaper.

Sunderland Volunteer Life Brigade members have clearly marked vehicles and are often summoned to save people in congested coastal areas frequented by meter maids. City council members responded to the complaints by saying ticketing is "vital" to the city.