6/5/2006
UK: Car Confiscator Has His Own Car and Money Confiscated
Portsmouth, UK Crown Court determined a man who made a million by clamping cars may have his assets seized.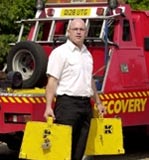 A man who made almost a million by illegally clamping and towing vehicles in Portsmouth, UK now faces having half of his goods confiscated by the government. Gordon Miller, 39, made £529,683 (US $998,853) running Aquarius Security, a company that offered parking management services to lots on private property.

England allows private companies to place an immobilizing boot or "clamp" on vehicles parked on private property such as a supermarket and charge a fee for the car to be set free. Most municipalities engage in similar tactics on public roads.

A jury found Miller and business partner Darren Havell, 31, guilty of blackmail last July. The two were found to have attempted to clamp a woman's car while she was making a three-point-turn. In another case, a woman who parked briefly was blocked in by a tow truck and was unable to leave without paying. Miller's company increased fines significantly if payment was not made on the spot. He would have cars seized if the inflated charges of up to £300 (US $565) were not settled.

Miller said to one of his victims who testified in court, "It's stupid people like you that pay for my Rolex and my Mercedes." Now Miller's $5000 Rolex, Mercedes convertible and £253,410 (US $477,630) in assets may be subject to confiscation under the UK Proceeds of Crime Act. The confiscation hearing is ongoing.