3/17/2006
UK: Speed Gun Mistaken for Machine Gun
A former commando earns a speeding ticket after he mistakes a speed gun for a submachine gun.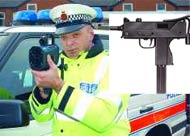 Dorset, UK resident Gareth Cook, 48, fell back on his special forces military training when he passed Wiltshire police officer George Rabczak who was pointing a speed gun at him. From a distance on the A36 at Thoulstone, Cook believed the gun was an Ingram Mac-10 submachine gun. Fearing for his life, he accelerated his Mercedes past the officer at 81 MPH in the 60 zone.

"If someone points a gun, you put your foot down," Cook testified at Swindon Crown Court, where he was unsuccessful in appealing his speeding conviction. Later, he told The Sun, "I had an instinctive reaction, but they called me a liar."

The court charged the veteran £580 (US $1015) and placed three demerit points on his driving license. In July, London police gunned down Jean Charles de Menezes, an innocent Brazilian man whom the police mistook for a terrorist. An Independent Police Complaints Committee investigation is currently under way to determine whether the Metropolitan Police attempted to cover up the mistake.