10/15/2005
UK: Speed Cameras Replace Real Cops with Cardboard Cutouts
Heavy use of speed cameras in UK communities allows real police to be replaced with cardboard replicas.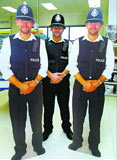 Southwold, UK has a unique solution to the problem of reduced police patrols on the roads and in communities. They have tripled the size of their force by introducing new "community officers" who are made out of cardboard.

"The Chief Constable is keen on any measures that develop neighbourhood policing and raise awareness of community officers." Suffolk Police Inspector Tim Powell told the Eastern Daily Press. "It is a new initiative that will help us do our job better."

The number of traffic police patrolling British roads has been on a steady decline since automated enforcement was introduced in the country. In 1966, twenty percent of the police force was dedicated to making the roads safer. That figure is seven percent today. Some UK police forces now have fewer than 30 officers dedicated to traffic duty.

The cardboard officers cost £90 each and can be sponsored by members of the community, as Adnams Brewery has done with the Southwold cutouts. The idea is not new. The first cardboard cop was installed in a Yorkshire supermarket in 1993, but it was quickly stolen.