8/4/2005
UK: Police Giving Roadside Eye Exams
Essex, UK drivers are being stopped so that police can test their eyesight.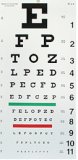 Police in Essex, UK are stopping motorists so that they can administer roadside eye exams. The move is part of an Essex County Council road safety campaign that will continue for at least one month. Under UK rules, drivers must be able to read a license plate from 20.5 meters (67 feet) away.

Only sixteen of the drivers who have been stopped thus far have failed the test. They were forced to leave their cars behind as officers drove them home and provided advice on how to get their eyesight properly corrected by an optometrist.
Article Excerpt:
Road safety officer Elaine Beckett said: "Over 95 per cent of the information required to drive safely comes via our eye; therefore, if your eyesight is defective you may miss that vital piece of information to keep you, your passengers and other road users safe."
Source: Police concern over driver eye tests (East Anglian Daily Times (UK), 8/4/2005)

Regional News:
Other news about England



Permanent Link for this item
Return to Front Page