12/21/2004
MG/Rover Offers Speed Cam Detectors as Standard Equipment
GPS based speed camera detectors now offered as standard equipment on some UK cars.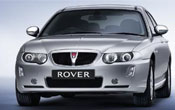 It says something that in the UK, you can now buy a brand new Rover 75 or MG ZT and you will get, as standard equipment, a speed camera detector. The devices made by Trafficmaster are GPS-based. Six other car manufacturers offer them as optional equipment.
Article Excerpt:
Smartnav provides the motorist with Trafficmaster's real-time traffic, which is used to calculate the best route and avoid traffic. In addition, drivers benefit from 24-hour support from Smartnav PA's - real operators who take down destination details and log them into central computer, which then calculates the route and downloads it to the car within seconds. Smartnav PA's also provide round the clock emergency and breakdown assistance. Rover 75s and MG ZTs will also come with Smartnav's Safe Speed service, a fixed site speed camera safety system, which warns the motorist of upcoming speed cameras and RAC Trackstar, a GPS based stolen vehicle tracking service.
Source: Trafficmaster's Smartnav Wins Largest Standard Fit Contract to Date (Press Release, 12/21/2004)

Regional News:
Other news about England

Other news about Scotland

Other news about Wales



Permanent Link for this item
Return to Front Page