Article from: www.thenewspaper.com/news/41/4149.asp


7/11/2013
Redflex Encourages Whistleblowers To Come Forward
Australian photo ticketing firm Redflex encourages employees to blow the whistle on camera fraud.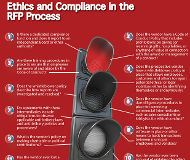 As a way to improve its image in the wake of a massive bribery scandal, Redflex Traffic Systems has added a "compliance center" to its website that encourages employees to come forward and report wrongdoing at the second-largest provider of red light cameras and speed cameras.

"All Redflex employees and directors are required to report any violations or potential violations of this procedure or the applicable anti-bribery laws," the new rules state.

The "zero tolerance" policy was put in place after the company began losing business from the revelations of bribery that first appeared in the Chicago Tribune newspaper.

"As you may know, recently some of our employees engaged in unethical practices in connection with our contract in Chicago," Redflex CEO Robert DeVincenzi wrote in explaining the new ethics guidelines. "We've admitted our mistakes, changed how we're doing business and have moved on. The people who were involved in our Chicago activity are no longer with us and we have developed what we believe to be a best in class ethics and compliance program."

Between 2003 and 2012, a Redflex lobbyist and its executive vice president provided up to $2 million to treat to a good time the Chicago, Illinois city employee responsible for the photo enforcement contract. The scandal enveloped the top management at Redflex, including the general counsel, head of US operations, chairman of the board and members of the board of directors, all of whom were fired or allowed to resign.

The company's new ethics rules prohibit conduct that was once widespread at the company, far beyond Chicago and the two other cities under an ongoing bribery investigation. For instance, the firm says it will no longer provide five star service to public employees responsible for approving lucrative contracts.

"All lodging for government employees or foreign government officials paid for by Redflex will be in business-class hotels," the company's new Gifts and Hospitality rulebook states. "First-class hotels are not permitted."

In 2010, Redflex put the police chief of Oak Ridge, Tennessee up at the Ritz-Carlton Hotel in return for his favorable testimony at a court trial two years ago.

To deal with whistleblowers, Redflex hired a third-party hotline company to receive tips about company wrongdoing. The information received will be transmitted to the Redflex chief financial officer in Australia, the compliance officer in the US and a member of the board of directors.

"All parties are encouraged to call the hotline to report any concerns, some of which may be unethical conduct, theft, fraud, harassment, discrimination, safety, illegal activity as well as any other issues or questions," Redflex documents explain.

In this case, the information would be transmitted to Redflex managers working at the same level as those who were involved in the previous scandals and covered up the Chicago incident. Redflex employees may also contact truly independent sources, including TheNewspaper (send tip, requests to remain anonymous will be respected).