1/14/2020
Virginia: New Democratic Majority Pushes Speed Cameras
Leadership of the Virginia General Assembly endorses measures that would deploy speed cameras on highways and local streets.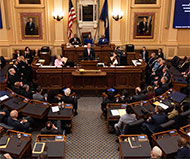 Democrats took the Virginia General Assembly in November, and with it, they assumed full control of the state government for the first time in 26 years. Convening last week, the new majority made speed cameras one of its top priorities. Language that would authorize a massive expansion in photo ticketing is included in several bills, including one introduced by House Speaker Eileen Robin Filler-Corn (D-Fairfax County).

The House speaker's bill would require the state police to set up speed cameras on specially designated "highway safety corridors" on high-volume, interstate highways including Interstate 95 in Northern Virginia, I-95 in Richmond and I-81 in Roanoke County. These zones already feature enhanced traffic fines of up to $500 each. The cameras would be owned and operated in all respects by private, for-profit companies working under contract for the state police.

Being part of the Democratic leadership's spending package virtually guarantees passage, and a similar measure cleared both the state Senate and House of Delegates last year. Knowing such proposals tend not to be popular, delegates and senators snuck a measure through the legislative process in the 2019 session without any public notice or debate. That bill was carried by a Republican, now retired, and it drew an effective veto from Governor Ralph Northam (D). Northam used his power to amend the bill to convert it into a study, preventing it from taking effect.

Other lawmakers want to expand automated ticketing beyond freeways. State Senator David W. Marsden (D-Fairfax County) introduced a bill to allow photo radar traps to be set up "within the vicinity of a school." Delegate Rodney Willett (D-Henrico County) goes the furthest, opening the use of speed cameras to any local government as long as the private speed camera vendor issues tickets in "residence districts" in addition to highways and school zones.

Virginia already has some of the nation's harshest driving laws, including "reckless driving" fines of up to $2500 that on kick on the fastest interstates at just 11 MPH over the speed limit. In 2007, Virginia lawmakers enacted an "abuser fee" program that added a mandatory $1050 tax on these tickets, potentially raising up to $3550 per citation. Public outrage over this law forced lawmakers to retreat by repealing the program and refunding the additional fees collected.

A copy of the proposed spending bill is available in a 2mb PDF file at the source link below.