4/26/2019
ACLU Report Documents Misconduct In Ohio Mayoral Courts
Report claims letting small town Ohio mayors sit as judge in traffic cases creates policing motivated by profit.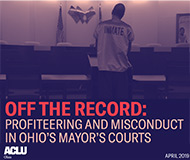 The decks are stacked against motorists who pass through small town speed traps in Ohio, according to a report released last week by the American Civil Liberties Union. A provision in state law, left over from the Ohio's frontier days, allows elected mayors, regardless of whether they have any legal training, to sit as judges in a "mayor's court" in traffic court and other minor cases. These bodies now decide the fate of hundreds of thousands of accused motorists each year across 297 municipalities.

"Every day, Ohioans are arrested and thrown in jail via mayor's courts, a shadowy quasi-judicial system that wrings revenue from drivers," ACLU Ohio researcher Sri Devi Thakkilapati wrote. "Mayor's courts can be turned into profit-centers because a mayor can instruct the municipal police to issue traffic citations and then adjudicate these offenses in court to collect court costs and fines."

The ACLU report used data from the Ohio judiciary to calculate the ticketing rate of towns with mayor's courts. In 51 of these jurisdictions, police issued tickets at a rate of 169 citations per officer per year, which is four times higher than the statewide average. One out of every six tickets issued in the state come from a mayor's court jurisdiction.

Poor motorists who are unable to raise the money for the pricey tickets face late fees, license suspensions, arrests and even jail time. In 2016, nine mayor's courts issued 8232 arrest warrants and suspended 1912 licenses. The report notes that the courts often use threats of these severe punishments as a means of obtaining guilty or no contest pleas.

"Because mayor's courts proceedings are not recorded, they can keep these coercive practices secret and protect themselves from scrutiny," Thakkilapati noted.

The report also produced figures suggesting several suburban mayor's court jurisdictions have been targeting black motorists.

"In addition to disproportionately citing Black community members, our review of citation data from mayor's court jurisdictions in Cuyahoga, Franklin, Hamilton, and Summit counties suggests that revenue-oriented mayor's court municipalities use state roads and national highways generate revenue from those passing through their municipalities on these roads," the report explained. "Revenue oriented municipalities with mayor's courts treat these roads as private tollways, and a disproportionately high number of these tolls are levied against people who do not live in their municipality."

The former chief justice of the Ohio Supreme Court spearheaded an unsuccessful crusade to eliminate mayor's courts. As a compromise, the ACLU is now calling for the General Assembly to target the mayor's courts in Cuyahoga, Franklin, Hamilton and Summit counties which the group believes are the worst of the worst. The group also wants expanded state oversight and mandatory training and guidelines to prevent abuses in mayor's courts.

A copy of the report is available in a 5mb PDF file at the source link below.