7/25/2019
Michigan Appeals Court Rejects Illegally Lowered Speed Limit
Appellate court tosses traffic stop based on bogus speed limit in Sarnac, Michigan.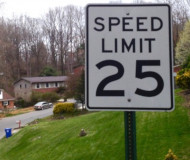 The Michigan Court of Appeals on Tuesday threw out the result of a traffic stop based on an illegal speed limit. The village of Sarnac created the situation by enforcing a 25 MPH speed limit on a road that had no speed limit signs posted. Under state law, roads without such signs are subject to a default 55 MPH limit, not 25 MPH as the village asserted. A 25 MPH limit would have been legal -- but not without appropriate notice.

"The village of Saranac could adopt traffic regulations that the Motor Vehicle Code authorized, but before such became enforceable, the ordinances or regulations were required to be posted on signs that gave notice to ordinarily observant persons of the local traffic regulations," the unanimous three-judge panel ruled.

An Ionia County sheriff's deputy claimed Anthony Michael Owen was driving 43 MPH on the village's road where the 25 MPH limit was improperly applied. The deputy knew there was no sign on the road informing drivers of the limit. He simply assumed that that road was like other village roads that did have signs. Once Owen had pulled to the side of the road, he was busted for driving under the influence of alcohol (DUI). Owen had an unlikely ally at trial when he moved to have the charge thrown out on the grounds he should never have been pulled over in the first place.

"Testimony by a Michigan State Police lieutenant established that the enforceable speed limit on the road was and remained 55 miles per hour at times relevant to this case," the appellate court noted in its ruling. "Accordingly, defendant lawfully traveled on the road the night of the traffic stop."

Having established the correct speed limit, the court then turned to the question of whether the traffic stop itself was still lawful or not. Under the Fourth Amendment, a stop has to be based on an officer's reasonable suspicion that a violation of the law took place. The court concluded there was nothing reasonable about the stop.

"At the time of the stop, Michigan's vehicle code did not permit an officer to stop a vehicle on an unposted road for exceeding the speed limit based on a belief that the road had a 25-mile-per-hour speed limit," the court ruled. "Nor could an officer reasonably infer from the Motor Vehicle Code that he could stop a vehicle on an unposted road for exceeding the speed limitbased on such a belief."

The court concluded that the mistaken belief was not reasonable because an officer enforcing the speed limit must actually know the limit.

A copy of the unpublished opinion is available in a 150k PDF file at the source link below.