10/12/2018
Facebook Traffic Stop Complaint Triggers Kentucky Cops
Lawsuit charges Kentucky state troopers with assault, puppy-kicking over a Facebook complaint about a traffic stop.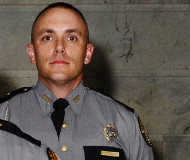 Furious Kentucky state troopers took the law into their own hands after a motorist complained on Facebook about a traffic stop, according to a federal lawsuit filed last month. On September 16, 2017, Trooper Scott Townsley stopped motorist David Allen Gabbard and searched his vehicle. Nothing illegal was found, so Gabbard shared his frustration on social media after returning home.

"Just love being pulled over for no reason lmao," Gabbard wrote on his personal Facebook page, adding a "police harassment" hashtag.

That appeared to infuriate Trooper Townsley, who showed up at Gabbard's rural home the next day accompanied by Troopers Joshua S. Roaden and Brandon R. Scalf. Gabbard insisted that the troopers leave, as his fiancee, Diana Muncy, recorded the confrontation on her cell phone.

"I did not harass you yesterday," Trooper Townsley said. "I knew what you mean... that's the only thing. I knew what you meant."

At this point, the recording ended because Trooper Scalf grabbed Muncy's cell phone and turned off the camera. Gabbard claims things escalated quickly with the trooper slapping Gabbard in the head and kicking his dog, a 9-month-old basset hound-beagle mix. Gabbard claims the trooper did "everything in his power" to incite a physical confrontation by taking off his badge and gun and saying he would fight as a regular citizen. Gabbard did not engage. Muncy ran inside and called 911 to report an assault by a state trooper. The dispatcher advised a state police supervisor who took no action.

The complaint notes that as soon as Trooper Scalf saw the video cameras on Gabbard's property, he convinced Trooper Townsley to leave. The cameras did not record the incident.

"The troopers have delivered their message to him loud and clear -- 'we can get you,'" attorney James O'Toole wrote in the complaint seeking damages from the officers. "The troopers were able to come onto his property and threaten him, slap him around, search his premises without justification and he was powerless to stop them and to protect his family. The troopers proved to Mr. Gabbard that he was impotent against the power of the Kentucky State Police being brought to bear upon him for no legitimate reason in violation of his constitutional rights... The troopers' collective actions served as a show of force for the sole purpose of intimidating and terrorizing the plaintiffs in response to Mr. Gabbard's Facebook post."

Gabbard is suing over the violation of his First and Fourth Amendment rights. The troopers responded last week admitting that they did show up at Gabbard's home, but they denied that they were trespassing. They asserted immunity from the lawsuit.

Update: In an October 10 letter to O'Toole, the Kentucky State Police confirmed that Troopers Townsley and Scalf were suspended without pay for four days after a preliminary investigation found conduct unbecoming an officer.