11/5/2015
Virginia Toll Road Suffers Major Legal Setback
Federal judge slams Transurban for imposing thousands in fines on motorists for tiny alleged infractions on Virginia toll roads.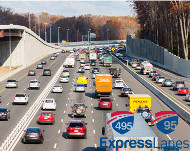 A federal court delivered a serious blow to the high occupancy toll lane (HOT lane) scheme in Northern Virginia on Monday. US District Court Judge James C. Cacheris ruled in favor of motorists on almost every major count in their ongoing lawsuit against Transurban, the Australian company in charge of the Interstate 95 and Capital Beltway HOT lanes.

At issue is Transurban's use of a photo enforcement system to issue "administrative penalties" of up to $1000 for each unpaid toll. Under this scheme, $50 in missing tolls became a $31,000 fine; $36 in unpaid tolls became $17,000.

Transurban ordered motorist Mary Elise Pizarro to hand over $9441 in May 2013 after she failed to pay $20 in tolls, but Pizarro was no scofflaw. Her records show that at the time of the alleged offense, her E-ZPass transponder recorded only half of her round-trip commute to work on the 495 Express Lanes. She blames Transurban for the problem in recording the other half because her account details were all in order.

Six other drivers joined the class action suit with similar horror stories. Judge Cacheris rejected Transurban's attempt to deny them standing to sue. The toll road provider argued that several of the motorist claims were moot because three cases had been dismissed in state court. The judge was not convinced that this resolved the matter.

"Transurban does not carry its heavy burden in attempting to persuade the court that it will not resume the challenged toll violation enforcement scheme with regards to either its specific claims against plaintiffs Osborne, Chase, and Hale, let alone with regards to its general toll enforcement practices," Judge Cacheris ruled.

Transurban files 26,000 toll violation lawsuits a year -- equal to about 71 cases per day. Because Transurban issues the same type of toll violation that a police officer would issue, the court considers Transurban a "state actor" that can be held accountable for constitutional violations made under the color of law. The motorists have a good case that Transurban violated the Eighth Amendment prohibition against imposing excessive fines.

"Here, plaintiffs have sufficiently alleged that Transurban sought penalties and fees that were grossly disproportionate to the miniscule underlying toll violation," Judge Cacheris wrote.

The court also found it likely that a jury would find the HOT program has violated federal debt collection laws by putting motorists into default when "plaintiffs have not in fact committed a toll infraction, but rather Transurban has simply neglected to collect the toll at the moment of entry."

On two of the points where the judge ruled against the motorists, he gave them a chance to re-argue the points as it was "likely" they could prevail. A copy of the ruling is available in a 140k PDF file at the source link below.