9/9/2015
California Assembly Passes Bill Limiting Automobile Use
California legislation would mandate cutting gasoline use in half within fifteen years.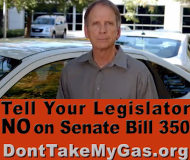 The freedom to get around by automobile could be severely limited in California under legislation that cleared the state assembly on Friday. By a vote of 41 to 27, the lawmakers mandated a fifty percent cut in statewide petroleum use by 2030. The law gives the California Air Resources Board (CARB) sweeping authority to implement rules it believes would bring about that reduction, which has groups like the California Driver's Alliance concerned that the measure, if adopted by the state Senate and signed into law, will lead to gasoline rationing, punishing taxes at the gas pump or the use of privacy-invading technologies to monitor and limit individual travel.

"To enforce gas restrictions, regulators now have a plan to monitor and collect your personal driving data," the group said in an advertisement against the bill. "This will enable state regulators to penalize and fine motorists who use too much gas or drive too often... You can say no."

The California Driver's Alliance predicts that CARB will require auto manufacturers to install a black box that would monitor how long a vehicle idles, how many times it has exceeded the speed limit and similar factors so that a driver's "gas wasting" behavior could be modified.

At the request of Governor Jerry Brown (D), state Senator Kevin de Leon (D-Los Angeles) introduced Senate Bill 350 in the name of fighting global warming. De Leon insists that his bill will cut costs for Californians since cars will go twice as far on a gallon of gas once it is in effect. His legislation also orders CARB to conduct feasibility studies for boosting subsidies for electric car buyers so that low-income residents can own a Tesla Model S, Nissan Leaf or Chevy Volt. Currently there are 100,000 electric vehicles in the state. For the policy to work from switching to an electric fleet, that ownership number would have to jump to 13 million in just fifteen years.

"Thanks to the leadership of this chamber, and bipartisan collaboration, we have added clean energy technology to our mantle of economic leadership -- right up there with entertainment, biotech, information tech, and agriculture," De Leon said in a statement.

In addition to the petroleum industry, a coalition of groups including the California Farm Bureau, California Retailers Association and National Federation of Independent Business warned of the impact the legislation would have on commercial trucking and farm equipment.

"Without a cost-effective and technologically feasible way to achieve this goal, we are very concerned about the negative effect on jobs and the increasing cost of goods movement for industry," the coalition explained. "SB 350 does not provide any guidance to the ARB other than the direction to achieve the goal, potentially at any cost. To make a bad situation worse, SB 350 exacerbates California's existing lack of a sustainable transportation funding system by cutting into our primary road funding source."

A copy of SB350 is available in a 500k PDF file at the source link below.