9/2/2015
Redflex Financial Losses Mount In Light Of Bribery Scandal
Redflex reports loss of $38 million in the last financial year due to scandal and the US revolt against automated enforcement.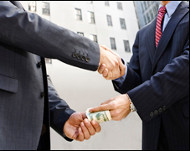 Shares in Redflex Traffic Systems tumbled to an all-time low of 15 cents per share Monday after the firm told Australian investors that it lost $38 million in the last fiscal year. Shareholders likely now regret rejecting as inadequate Macquarie Bank's bid to buy out Redflex at $2.75 a share four years ago.

The takeover bid came long before the firm's corruption surfaced. Redflex now faces the prospect of paying Chicago, Illinois up to $300 million in penalties for lying to city officials. Under the Windy City's "false claims" ordinance, Redflex may be held liable for denying that it was engaged in bribery, when the facts now show that it was. Former Redflex executive vice president Aaron M. Rosenberg, who is cooperating with federal prosecutors, filed the lawsuit in Cook County Circuit Court as a whistleblower with direct and independent knowledge of the bribery schemes. His filing is a formality, as Chicago has already sent notice of its intent to take over the lawsuit.

"The city paid Redflex on each contract in reliance that Redflex had not engaged in bribery or attempted to bribe any employee of the city," Rosenberg attorney John J. Muldoon III wrote to the court. "Had the city known that these statements were false, the city could have canceled the contracts with Redflex."

A hearing on the case is set for October 6. Meanwhile, Redflex continued to see its business prospects sour in the United States, where it lost 27 percent of its traffic business profit last year.

"The entire industry in the USA has been adversely impacted by negative civil rights sentiment that often results in the implementation of legislation designed to prohibit the use of photo enforcement systems in various states and precincts in the USA," Redflex told investors. "The combination of these factors can and has led to contract terminations, lower contract renewal rates and the delay or abandonment of new programs."

Yet the problems Redflex cites have not affected the competition. A spokesman for American Traffic Solutions said his company was "diversified, profitable and growing."

Redflex blamed $11 million of its loss on photo enforcement contracts that were canceled in New Jersey and Ohio. Cameras continue to come down, as the firm's total of 1394 cameras is down 8 percent from the 1518 the company operated last year. Instead of seeking new contracts in the US, Redflex promised to focus on retaining existing clients and growing new business in camera-friendly jurisdictions in Europe, Canada and Mexico. The firm also plans to venture beyond automated ticketing machines into "parking, tolling and traffic management."