8/25/2015
Tennessee Court Highlights Ability Of Private Citizen To Conduct Traffic Stops
Private citizens in Tennessee can make traffic stops and arrests for speeding and other traffic infractions.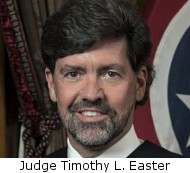 To keep a convicted drunk driver from going free, the Tennessee Court of Criminal Appeals on Friday decided to emphasize the private citizen's right to pull over other motorists, even for minor traffic infractions. A three-judge panel reviewed the September 2, 2012 incident in which Pigeon Forge Police Officer Jeremy Croce stopped Steven Roy Wilburn outside of his jurisdiction. Though he did not realize it, the officer was not in Pigeon Forge -- best known as the home of Dollywood -- when he saw a lane violation. He had crossed into the neighboring town of Sevierville. The offense he witnessed was a Class C misdemeanor that is usually punished with a maximum fine of $50.

"As a private citizen, Officer Croce was authorized to stop and arrest defendant for these traffic violations." Judge Timothy L. Easter wrote for the unanimous panel. "Officer Croce's subjective belief that he was acting as a police officer in Sevierville rather than as a private citizen is immaterial."

To operate under his authority as a city police officer, Officer Croce would have had to receive permission from Sevierville. He never asked for permission because he was not actually sure how far within that city's limits he had driven. Officer Croce explained that he waited to pull Wilburn over because he wanted to give him "the benefit of the doubt" and ensure his weaving was not simply the result of a momentary lapse of concentration. At the suppression hearing, Officer Croce admitted that he did not develop any reasonable suspicion of a traffic violation until he had entered the Sevierville city limits.

Once stopped, however, it was clear Wilburn was driving under the influence of alcohol (DUI) from the odor of alcohol on his breath, his bloodshot eyes and slowed reactions. The allegations were backed up with dashcam video.

"Officer Croce was also authorized, as a private citizen, to arrest defendant for DUI," Judge Easter ruled.

Tennessee law allows one private citizen to arrest another not just for the commission of a felony, but also for "a public offense committed in the arresting person's presence." The appellate judges cited a number of precedents that interpret a public offense to include misdemeanors, including traffic violations. For that reason, the court upheld Wilburn's DUI conviction.

A copy of the ruling is available in a PDF file at the source link below.