11/6/2014
Voters Reject Toll Roads And Misuse Of Motorist Funding
On Election Day, voters reject toll roads, gas tax hikes while embracing protections that direct road funding to roads.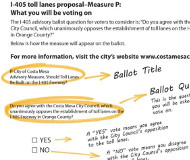 Motorists had their say at the ballot box in a number of states Tuesday. In addition to outlawing automated ticketing machines in four jurisdictions, voters responded to a number of state and local initiatives and proposed state constitutional amendments of interest to the driving public. Tolling and tax hikes were rejected, while measures that ensured taxes on motorists were actually used on road projects proved popular.

Toll roads were on the ballot in Costa Mesa, California as voters were asked whether they approved of plans to convert freeway lanes on Interstate 405 into toll lanes. The majority -- 54 percent -- said "no" to the toll lanes in this non-binding advisory measure. In Louisiana, 68 percent of voters said "no" to a constitutional amendment that would have created an infrastructure bank to build toll roads.

Texans gravitated to the promise of a transportation funding mechanism that did not include any support for toll roads (view details). Proposition 1 will draw about $1 billion per year from the state's "rainy day fund" through 2018 and depositing the cash in the highway fund for the sole use of building and repairing new roads that are free for use by all residents. It passed with 80 percent of the vote.

Fifty-three percent of Massachusetts voters repealed a law that would have indexed the gasoline tax so that it automatically increases with the inflation rate. In Missouri, voters rejected Proposition 7, a $5 billion sales tax hike to pay for the Missouri Department of Transportation's wish list of spending consisting almost entirely of projects unrelated to driving (view details). The idea was rejected by 59 percent of the vote.

Maryland and Nevada passed transportation funding "lockbox" constitutional amendments by 81 and 79 percent votes. The measures would prohibit lawmakers from raiding funds raised from the gasoline tax for distribution to the state's general fund.

Oregon rejected Measure 88, which would have issued driver's licenses to illegal aliens, failed under the opposition of 67 percent of voters.