8/27/2014
Texas To Vote On Toll-Free Road Funding Amendment
Lone Star State tackles congestion with a $1 billion annual plan to build and maintain new general purpose roads.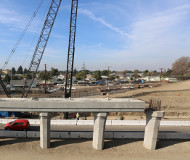 Voters in Texas will decide on November 4 whether they want highway funds to go only to general purpose roads and not to bicycle paths and infrastructure for foreign-owned tolling companies. Texas Secretary of State Nandita Berry announced last week that Proposition 1 had qualified for the ballot.

If approved by voters, the measure would reflect a major reversal from Governor Rick Perry's push for tolling that included plans for a massive Trans Texas Corridor toll road that stalled after stirring widespread opposition.

The proposition would create a temporary constitutional amendment drawing about $1 billion per year from the state's "rainy day fund" through 2018 and depositing the cash in the highway fund for the sole use of building and repairing new roads that are free for use by all residents. The rainy day fund currently has $6.2 billion from state oil production tax.

"Revenue transferred to the state highway fund under this subsection may be used only for constructing, maintaining, and acquiring rights-of-way for public roadways other than toll roads," Proposition 1 states.

Compared to the rest of the nation, the Texas economy has been booming, with the the governor boasting that his state created 29 percent of the nation's net new jobs over the past decade, primarily in the energy sector. This growth has stressed the existing road infrastructure. Between 2006 and 2011, vehicle miles traveled dropped 2.2 percent nationwide while Texas held steady, down just 0.3 percent. More growth is forecast in the decades ahead. The Inrix Traffic Scorecard ranks Austin just below Los Angeles and San Francisco for the worst traffic in the nation, with Houston and Dallas earning a spot in the top twenty-five gridlocked cities.

As in most states, Texas frequently diverts "transportation funds" to projects that have nothing to do with transportation, such as building a park. The group Empower Texans recently criticized the Texas Department of Transportation for requesting $50 million for research into "drones, jetpacks, a hyperloop and hover cars."

Legislation adopted to implement the proposition would create a committee to monitor the rainy day fund to ensure it remains at a "sufficient balance" given the state's needs. The measure re-allocates funds so that 25 percent of the oil tax revenue would go to the general fund, and, of the remainder, 75 percent would go to transportation and 25 percent to the rainy day fund.