9/23/2014
New Jersey Governor Slams The Door On Red Light Cameras
New Jersey Governor suggests red light camera removal as a potential statewide Christmas present.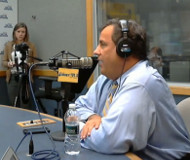 Red light cameras in New Jersey will almost certainly go dark before Christmas. Governor Chris Christie (R) on Thursday said that he was unlikely to support renewal of the program that expires December 16, and his approval is necessary. Christie appeared on New Jersey 101.5 radio's "Ask the Governor" program to deliver the message to state lawmakers that it would not be worth their time to put a reauthorization measure on his desk.

"I have real concerns about it and my inclinations are against continuing that program," Christie said in response to a caller's question. "I will tell you my gut feel on this is, Greg, that I don't favor it."

For the red light cameras to continue after December 16, a majority in the state Assembly and state Senate must send legislation providing for an extension to Christie for his signature. Such a bill has not been introduced and would have a tough time clearing the state Senate Transportation committee which unanimously voted last week to prohibit other states from mailing photo tickets to New Jersey residents. The only outspoken voice in favor of cameras is Assembly Transportation Committee Chairman John S. Wisniewski (D-Parlin), a potential 2017 candidate for governor, who has proposed to let small towns install speed cameras. Christie quickly shot that idea down.

"If my inclination is against continuing that [red light camera] program, I'm certainly not inclined to start a new one [with speed cameras]."

Christie's views on red light camera have shifted in previous interviews. In July 2012 he mocked those who complained about cameras by reducing their argument to their desire to get a "freebie" for running a red light. In October 2012, Christie was sour on the cameras. In September 2013, he flipped to say that the complaints against the cameras were "unconvincing." and that he was not going to get involved. Christie on Thursday denied his view had changed.

"It just doesn't seem that it's being fairly and uniformly administered, and I think that's a real problem," Christie said. "I think that people start to get a little aggravated and begin to have the fears that Greg talked about in his question, which is that it's just an opportunity for municipalities to grab money from people."

A governor's veto can only be overturned with a supermajority vote of 27 of the 40 state senators and 54 of the 80 state assemblymen.