9/16/2014
New Jersey Senate Committee Votes To Ban Out-Of-State Photo Tickets
Unanimous New Jersey Senate Transportation Committee approves bill to protect New Jersey drivers from photo tickets in other states.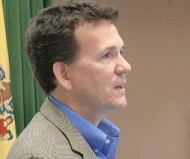 Democratic and Republican members of the New Jersey Senate Transportation Committee are in full agreement on one thing: Red light cameras and speed cameras are about making money, not improving traffic safety. The panel on Tuesday unanimously approved a measure modeled after a South Dakota law that would immunize the state's residents from photo enforcement tickets issued by other jurisdictions.

The measure, championed by state Assemblyman Declan J. O'Scanlon Jr (R-Monmouth), forbids the state Motor Vehicle Commission from cooperating with NLETS, the interstate motor vehicle information network that red light camera and speed camera companies use to look up the license plate and registration information on out-of-state drivers. Without this information, the ticket cannot be mailed.

Two dozen towns currently use red light cameras in New Jersey under five-year pilot program that will expire before the end of the year unless a new law is enacted. Governor Chris Christie (R), after waffling on the issue, has indicated that he may not sign a bill to renew the program, even if one were to reach his desk.

"I have concerns about it, and my inclination is not to continue it," Christie said in an August 28 speech in Sea Bright.

O'Scanlon, the leading opponent of the cameras in the legislature, says the cameras are done in the Garden State. He wants to do more than just outlaw cameras.

"Our program here will die a merciful death on December 16, but New Jersey should go further, which this bill will do, and stop us from being complicit in what amounts to theft from our motorists," O'Scanlon said Tuesday. "If our red light camera program here is a disaster for motorists and motorist rights, the programs in other states are catastrophic for those rights. They have even less checks and balances on them."

O'Scanlon cited the Washington, DC inspector general's report (view audit) that found the program in the nation's capital was a "wild west" where tickets were mailed to individuals regardless of whether they did anything wrong. Chairman Nicholas J. Sacco (D-North Bergen) pointed to the the way Maryland and New York have specifically been placing speed cameras in areas designed to trap out-of-state drivers.

"It just seems unfair, and we don't have them [speed cameras]," Sacco said. "So why should we have to enrich the coffers of states that have them? They're simply money-makers... South Dakota showed a lot of courage. I look at this as an abuse of New Jersey drivers and I'm happy that we all agree."

A copy of O'Scanlon's bill is available in a 20k PDF file at the source link below.