5/11/2014
Texas Voters Ban Red Light Cameras For A Sixth Time
Residents of Conroe, Texas approve ban on the use of red light cameras.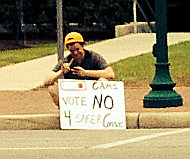 Voters in Conroe, Texas flocked to the polls Saturday to become the sixth town in the Lone Star state to outlaw red light cameras. The automated ticketing machines owned and operated by American Traffic Solutions (ATS) lost by 59 percent of the vote.

The Arizona-based firm did its best in the final hours of the race to sway the vote. Using a front group directly controlled by ATS executives, the firm paid $50,000 to Jamestown Associates, the direct mail firm used by New Jersey Governor Chris Christie, and $5000 to Thomas Graphics of Austin to come up with a compelling message. Full color flyers began hitting residents Friday that showed a pair of white children standing on a curb.

"Red light runners keep your family at risk," the flyer said. "Vote NO to keep Conroe safe. Sixty three percent fewer collisions with red light safety cameras."

Beneficiaries of the camera program also arranged to have two individual standing on the street corner near the polls with signs reading, "Vote NO 4 safer Conroe." Photo ticketing opponents complained that the ballot was confusingly worded in requiring a "yes" vote to be against cameras.

"Red light camera proposition," the ballot text read. "Repealing authority for operation of a red light camera enforcement system and terminating the contract for operation of the system."

Texas Campaign for Liberty volunteers stood outside the polling place ensuring voters knew that the "yes" vote was against using cameras. They reported throughout the day that most voters headed to the polls intended to take the cameras down.

"Texans have spoken loudly with a unanimous voice every single time they get the chance to decide the fate of the cameras," activist Byron Schirmbeck told TheNewspaper. "Texans overwhelmingly reject the notion that automated ticket cameras are anything other than a dangerous money grab. It is far past time for the state legislature to move forward with a statewide camera ban. There is nothing left to prove."

Texas residents have voted to oust red light cameras in Dayton, Houston, Baytown, League City and College Station by margins of as much as 77 percent against. Measures also qualified for the ballots in other cities, but red light camera operators succeeded in blocking votes in Cleveland, Port Lavaca and Sugar Land. Nationwide, voters overwhelming oppose the use of cameras at the ballot box (view list).