5/14/2013
Maine: Legislation Would Reverse Toll Road Secrecy
Maine Joint Transportation Committee votes to make all toll road documents and proposals public.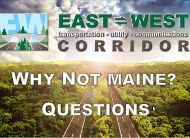 The Maine state legislature's Joint Transportation Committee on Monday reported a bill that would lift the veil of secrecy from a major toll road project and force private developers to pay for their own feasibility studies. On April 5, 2012 Governor Paul LePage (R) signed a bill ordering the state transportation department to conduct an economic feasibility study of a $2 billion, 220-mile toll road cutting across the state from east to west, connecting the Canadian provinces of New Brunswick and Quebec. The new bill repeals that provision.

"We should not be using public funds to conduct a study for a private project," state Senator Edward J. Mazurek (D-Knox County), the bill's sponsor, testified. "We have a range of existing state transportation projects waiting for funding, and siphoning limited public funds to private projects is not acceptable."

The state transportation department was supposed to have completed its study in January, but agency officials suspended the project after failing to receive key documents.

"To perform such a study, we need to have reliable information about the connections between the new proposed highway and existing public infrastructure," Maine DOT legislative liaison Nina A. Fisher explained. "Without knowing these connections, we cannot properly identify proposed highway users or their willingness to pay tolls."

The committee voted to repeal the mandate for the study and make public any work done to date on the project.

"Notwithstanding any law to the contrary, all documents, including, but not limited to, emails, attachments, letters, contracts, reports, records, notes, summaries, working papers, plans, interoffice and intraoffice memoranda and drafts or any other materials created, received or transmitted by the Department of Transportation in connection with Resolve 2011, chapter 147 are not confidential and are subject to public review," Legislative Document Number 985 states.

In most states, toll roads constructed with substantial public assistance keep all materials regarding the proposal secret until after the final contracts are signed. The critical traffic and revenue analysis as "proprietary" data that cannot be disclosed. A study released last month found the secret traffic analyses conducted in Orange County, California were significantly inflated, leading to the loss of millions in taxpayer money (view report).

The committee turned back stronger attempts to outlaw the project, but that did not stop local activists from testifying that the state's public-private partnership (PPP) statute should also be repealed.

"Repealing the PPP law would protect the public from misuse of taxpayer money for private interests, protect the public from assuming at least 50 percent of investor debt on a project for private profit, protect the public from being on the hook completely if the project fails, ensure public infrastructure for public use, and protect the public's social, environmental, and economic assets that benefit us all," Chris Buchanan with Stop the East-West Corridor testified. "PPPs in general have proven in other states to socialize risks and privatize profits. In many cases, PPP projects have cost taxpayers more money than if they had done the project publicly in the first place."

A copy of the legislation is available in a 25k PDF file at the source link below.