1/17/2013
Illinois: Chicagoans Fight Back Against Red Light, Speed Cameras
Political activists take on automated ticketing machines in Chicago, Illinois.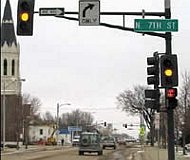 By The Expired Meter

Stephen Hinton does not like Chicago's red light cameras.

Over the years, like the hundreds of thousands of other drivers who are issued red light camera tickets every year, the 49-year-old Chatham, Illinois resident has received his share of $100 tickets being photographed entering an intersection when the traffic light had turned red. Hinton says it was the third, and most recent red light camera ticket he received at 95th and Stony Island about a month ago that was at least part of the inspiration for starting an online petition to rid Chicago of the cameras (view petition).

"I see the glaring disservice the red light cameras do to the citizens of Chicago," Hinton said. "It's unfairly taking advantage of the citizens of Chicago."

Because drivers can only fight their tickets in-person Monday through Friday, Hinton says it is difficult for the typical Chicagoan to take time away from work to try to contest violations. According to Hinton, the difficulty in contesting these tickets forces drivers to just pay the fines before they double to $200. The Windy City is the red light camera capital of the United States, with 384 cameras shooting video and still photographs at 191 separate intersections around the city while generating revenues exceeding $60 million in a typical year.

"It's a just an added tax -- this is another way to generate revenue," Hinton said. "What was it? $61 million in 2010? It's unreal for them to present it as a safety measure and reap the benefits of that revenue."

Hinton is not the only one working to rid the city of automated traffic camera enforcement. As Chicago plans to bring speed cameras to city streets in 2013, Cook County Campaign for Liberty is planning the start of a long-term campaign against the speed cameras and red light cameras.

"Unsafe, unwanted and unconstitutional is our theme for 2013," Cook County Campaign for Liberty's Scott Davis said. "There was no public outcry for speed cameras. There's no real proof it will make things safer."

Davis, a Lakeview resident, agrees with Hinton on the monetary aspect of traffic enforcement cameras.

"It's obviously just another money grab -- a tax on people who drive," says Davis. "They say its about safety but its actually a revenue maneuver and against our civil liberties."

Campaign for Liberty seems to have had some success against the expansion of red light camera enforcement in Cook County back in 2010, when County board members voted to install cameras on county roads. Davis helped spearhead a series of protests at intersections with red light cameras located within Cook County, both inside and outside Chicago. The group passed out thousands of fliers targeting county board members in an election year. Ultimately, complaints from constituents combined with a backlash from many of the municipalities which did not want red light cameras installed within their town limits, forcing the board to back off its plan. This time, Davis says Campaign for Liberty is taking a more long-term approach.

"You can't just do a few protests," Davis said. "You need a sustained campaign to have success. We plan on keeping a scorecard on political officials and expose them if they make bad votes or reward them with support and awards if they vote the right way. We believe it's a smarter way to do activism on this issue."

Campaign for Liberty will be targeting the weakest aldermen and distributing literature and pre-paid postcards in in their wards over the next two years leading up to city elections in 2015.

"This is going to have to be a two to three year campaign–a sustained campaign," Davis said.

Hinton's goal is to present a petition to Mayor Rahm Emanuel with 10,000 signatures calling for the red light cameras to be removed. It is an achievable goal according to Hinton who pointed to a Facebook page with 10,000 "likes" opposed to the city's red light cameras.

"This idea of getting 10,000 signatures is not that far fetched," says Hinton. "It's time to stand up and say 'enough is enough.'"

Detailed coverage of Chicago motoring issues can be found at The Expired Meter.