12/11/2012
Poland: Naked Speed Camera Protester Fined $315
Speed cameras target dressed and undressed bicyclists in Poland.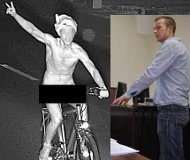 A court in Szczecinek, Poland on Monday imposed a 1000 zloty (US $315) fine against a man who made an unusual protest against the use of speed cameras. In October, Mariusz Sztuba hopped on his bicycle wearing nothing but sneakers on his feet and undergarments on his head. He raced past a speed camera in Bialy Bor at 53 km/h (33 MPH) in the 40 km/h (25 MPH) zone, so it snapped a photograph. Officials were not amused by what they saw.

Identification plates are not required for bicycles, so local police made locating the undressed protester a top priority. Investigators ultimately zeroed in on Sztuba, formally charging him with violating the speed limit by 13 km/h (8 MPH) on top of lewd conduct.

Sztuba objected to the indecency charge, saying he was wearing a thong at the time. Sztuba also explained that he had decided to do something to protest the presence of the automated ticketing machine because his village had earned the reputation of being a speed trap. Judge Slawomir Przykucki found the cyclist guilty.

"I do not agree," Sztuba said after the verdict. "The fine amount imposed for this prank is, in my mind, far too big."

Sztuba is not the only cyclist feeling the heat from speed cameras in Poland. As Gazeta.pl reported, a fully clothed 18-year-old named Patryk was fined in Koscierzyna because a photo radar device accused him of riding at 46 km/h (28 MPH) in a 30 km/h zone (19 MPH). Patryk was upset when he received the ticket because, in addition to not having seen any speed limit sign, his bicycle has no speedometer so he would have no way of knowing whether he was in compliance anyway. He refused to pay the citation.

Patryk had been identified by a local police officer, a neighbor, who informed on Patryk. The district court in Koscierzyna declined to prosecute because of the lack of evidence, but police would not let up, appealing the local court's decision to a regional court in Gdansk. The appeal will be heard on January 8.