9/20/2012
California Court Thwarts Camera Company Vote Blocking Attempt
Court of Appeal strikes down ATS attempt to prevent Murrieta, California residents from voting on red light cameras.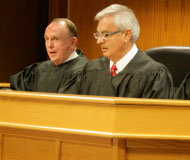 California's second highest court ruled Tuesday that voters would have a say in whether red light cameras may be used in Murrieta. American Traffic Solutions (ATS) had hired the most prestigious elections law firm in the state and arranged for a resident to file a lawsuit to keep the measure off the November 6 ballot. A lower court judge sided with ATS on August 3 (view order), but the camera company's maneuvering may have been too clever for its own good.

ATS will not admit it hired Bell, McAndrews and Hiltachk LLP to file the suit, and Murrieta resident Stephen Flynn only says that the law firm's attorneys approached him about filing the suit, denying he has had any contact with the photo ticketing firm. Attorney William H. Bell's plan was to file the case at the last possible minute so that anti-camera activist Diana Serafin would not have time to file an appeal before the ballots were printed. The Court of Appeal took notice.

"Real party in interest delayed several months before bringing a legal action to remove the proposal from the ballot, and this delay, combined with the fact that the measure can be challenged after the election if it is approved, are decisive factors in persuading this court to order that the proposal remain on the ballot," Justice Art W. McKinster wrote in a unanimous decision.

Though ATS won the first round, the victory only lasted four days. Riverside County Superior Court Daniel A. Ottolia issued a stay of his own ruling on August 10, allowing the measure to be printed on the ballot pending appellate review. Riverside court officials followed through to ensure the board of supervisors were contacted about placing the initiative back on the ballot five days before the printing deadline.

The Court of Appeal reasoned it was premature for the courts to intervene so early in the electoral process. The justices cited a 2006 case in which the state Supreme Court smacked down the Court of Appeal for blocking a public vote on a measure that would have granted more authority to the Public Utilities Commission. Voters did not approve the initiative, which confirmed the court's early intervention was unnecessary.

"Because this type of challenge is one that can be raised and resolved after an election, deferring judicial resolution until after the election -- when there will be more time for full briefing and deliberation -- often will be the wiser course," the high court ruled in Independent Energy Producers Association v. McPherson.

Here the Court of Appeal ruled Judge Ottolia's decision was not improper but "unwise." This finding pleased circulators of the anti-camera ballot petition.

"The courts have ruled in the favor of the voters," Serafin wrote in an email.

A copy of the unpublished ruling is available in a 20k PDF file at the source link below.