9/18/2012
Virginia: Toll Road Deal Ensures 73 Years of Gridlock
Virginia Department of Transportation signs contract encouraging congestion on I-95 for 73 years.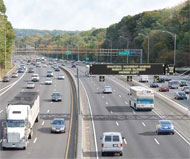 The state of Virginia executed a contract with an Australian company on July 31 designed to discourage ride sharing and ensure congestion on major commuter routes until after the year 2085. A cleverly worded "non-compete" provision buried in a massive contract document puts taxpayers on the hook for paying monetary damages to toll road operator Transurban if the state decides within the next 73 years to expand the free lanes on Interstate 95, improve the highly congested Route One corridor or make driving easier on the Occoquan Bridge.

Transurban began construction last month on the Interstate 95 High Occupancy Toll (HOT) lane project which will run 29 miles from Garrisonville Road to Edsall Road without actually adding to the highway's current space. Instead, the project will rearrange the layout of the existing High Occupancy Vehicle (HOV) lanes, which are now available for any driver to use for free during off-peak hours. Though Transurban will allow vehicles with three or more occupants to continue to use the space when the HOT lanes open, impromptu carpool arrangements will no longer be possible. Those interested in sharing a ride must first register and buy an E-ZPass "Flex" transponder which has a switch the driver must flip to indicate carpool use. The stated purpose of the high occupancy lanes is to encourage ride sharing, but Section 5.07 the tolling agreement specifically discourages such sharing. Should the number of carpoolers exceed the threshold of 35 percent of HOT lane users, state taxpayers would have to pay Transurban a fine equal to 70 percent of the toll for each of the cars exceeding the threshold.

Similar damages apply to improvements made to nearby roads. According to the contract, Transurban gets the first shot at building additional lanes. If either Transurban or the Virginia Department of Transportation decide another company would be better suited to perform the construction work, taxpayers must send a check to Transurban.

"If the department determines that additional lanes are in the state's best interests, the department will consult with the concessionaire as to an appropriate strategy to implement such additional lanes," Section 12.05 of the contract states. "If the concessionaire determines not to pursue the construction of such additional lanes... such additional lanes will constitute a compensation event... Route One improvements will be treated as a compensation event... Occoquan Bridge improvements will be treated as a compensation event."

The size of the check depends on whether Transurban has paid off all of its debt and received a profit of at least six percent on its total investment. If not, the payment is based on road-use estimates.

"Concessionaire damages with respect to any compensation event will be calculated based on the sum of (A) any adverse net cost impact and (B) any adverse net revenue impact for each year that there is an impact attributable to such compensation event," Section 14.01 of the contract states.

Though the Australian firm stands to reap a great deal of the profit, two-thirds of the project's financing is backed by taxpayers. Virginia is providing $71 million in grants and $242 million in revenue bonds meant for use by a small business. The federal government is chipping in $300 million in the form of a TIFIA loan. Financial analysts at Standard and Poor's found the contract's provisions designed to discourage congestion relief in free lanes would help Transurban turn a profit.

"We believe the concession agreement is reasonable and compensates the project for expansion of identified competing parallel roads and a high number of HOV, which do not pay a toll," Standard and Poor's wrote July 30 in assigning the bonds a BBB- rating.

The rating would have been higher, but Standard and Poor's believes the project's traffic and revenue projections are inflated and Virginia has underestimated the number of unpaid violations likely to happen. Overall, however, provisions that ensure traffic congestion will likely cover the risk.

"These assumptions result in our toll revenue forecast that is about 60 percent to 70 percent of the sponsors' forecast," the credit rating agency explained. "We also assume an increase in operating expenses of about 12 percent... The stable outlook reflects our view that the project will have sufficient liquidity to complete construction and pay debt service during ramp-up, and that traffic congestion on the general-purpose lanes will generate sufficient demand for the managed lanes to provide adequate coverage of senior and TIFIA debt service over the life of the debt."

As the project will be in place for 73 years, it is unclear how realistic those forecasts will prove to be. The Virginia of today looks almost nothing like it did seventy-three years ago. In 1940, Virginia had 525,877 registered vehicles. Last year, it had 7,636,407 -- an increase of 1352 percent. In 1940, there were only 228 miles of urban road, no interstates and only 6093 miles of secondary road were properly paved -- dirt and otherwise unsurfaced roads stretched 31,567 miles. Today, there are 1118 miles of interstate and 10,491 miles of urban roads for a total system mileage of 69,676.

Relevant portions of the contract between Virginia and Transurban are available in a 75k PDF file at the source link below.