5/23/2012
New Jersey: Lawmaker Pushes Statewide Camera Ban
Garden State legislator seeks to restore ban on all forms of photo enforcement.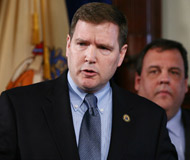 A New Jersey state senator wants to re-institute his state's ban on the use of red light cameras. On Thursday, state Senator Michael J. Doherty (R-Washington Township) introduced legislation to that would force the eventual removal of the devices. Doherty also started an online petition to rally support his bill.

"Although red light cameras were sold to the public as a way to make dangerous intersections safer, it's become clear that municipalities are primarily interested in the revenues generated by the cameras through tickets and fines," Doherty said in his statement on the bill's introduction. "There is little if any evidence that the use of red light cameras in New Jersey has reduced the number or severity of accidents at the intersections where they are used. When combined with serious questions regarding personal privacy and the process and constitutionality of being ticketed by a machine, I believe it's time that we put this ill-conceived red light camera experiment to rest."

New Jersey was one of the first states to pass a statute specifically banning the use of automated ticketing machines. In 1992, the US Department of Transportation offered a grant to the state to run speed cameras on state highways. As word spread, the public became so outraged that the state Assembly voted 74-1 in favor of the camera ban. Fifteen years later, heavy lobbying by the photo enforcement industry wore down the legislature's resistance. Legislators repealed a portion of the prior law so that a limited number of cities could install red light cameras in 2008.

Doherty would return the state code to the way it was in 1992.

"A municipality shall not utilize any traffic control signal monitoring system to detect violations of a traffic control signal," Senate bill 1952 states. "'Traffic control signal monitoring system' means an integrated system or device utilizing a camera, or a multiple camera system, and vehicle sensors which works in conjunction with a traffic control signal and is capable of producing high resolution color digital recorded images and a video recording of the violation that shows the violation occurring."

Unlike previous laws to ban photo ticketing, Doherty's measure would allow existing red light camera programs to continue until their contracts expire. Fifteen states have banned the use of photo enforcement, and states like Mississippi and South Carolina intentionally forced cities to shut down existing photo ticketing contracts. If the bill becomes law, cities would have 30 days -- as opposed to the current 90 days -- to serve notice to citation recipients.

A copy of the bill is available in a 25k PDF file at the source link below.