1/8/2008
New Jersey Lawmakers Approve Red Light Cameras
Automated ticketing makes a return to New Jersey after being kicked out fifteen years ago.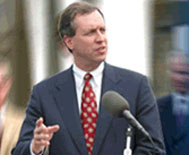 The New Jersey state legislature yesterday gave final approval to a bill reversing the state's ban on photo enforcement. If signed into law by Governor John Corzine (D), the measure would allow local governments to install red light cameras within 90 days, reversing the principles behind a law enacted fifteen years banning automated ticketing machines in the wake of intense public outrage.

With little public debate, the authorizing legislation squeaked through yesterday by a single vote in a late Senate session. The first attempt at passage had failed, setting off intense backroom dealing after many lawmakers who opposed cameras had left. The state Assembly's approval came by a wider 49-25 margin.

Assembly Transportation Chairman John S. Wisniewski (D-Middlesex) first wrote the measure with a complex set of requirements that would force localities to adopt one camera manufacturer's specific technology. The initial draft mandated that: "the violation images are captured by a single, digital camera unit which produces a set of two images for each violation." This would have excluded several vendors who use multiple camera setups and wet film to achieve the same result, but a subsequent amendment dropped the single camera requirement.

Local governments had lobbied heavily for the legislation as means of shoring up tight municipal budgets. To take advantage of the new ticketing program, they must submit a list of high-volume intersections to the state transportation department which has final approval over which locations can use cameras. Like Arizona, New Jersey's proposed law would require each ticket to be "served by a law enforcement official." This means that motorists may avoid paying a citation by dodging process servers for forty business days after the date of the alleged violation.

The bill also allows an owner who receives a ticket to file a lawsuit against the driver of a vehicle who generated the citation to recover the amount of the fine and administrative costs. A final provision of the bill mandates that municipalities file annual reports detailing the number of accidents at intersections which have the cameras.

In April 1992, the New Jersey State Police accepted federal gas tax dollars to fund a photo radar pilot project. As soon as signs announcing the program went up, complaints came rushing in. The intensity of the outrage forced the legislature in a nearly unanimous vote to ban photo ticketing less than three months later -- before the state police even had a chance to mail any tickets. The legislation adopted yesterday suspends the 1992 law as it applies to red light cameras, but it does not authorize the use of speed cameras.

The full text of the legislation is available in a 55k PDF file at the source link below.