4/6/2012
Texas Expands 80 MPH Speed Limit
Texas toll roads to post 80 MPH speed limits.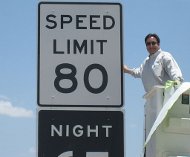 Roads nationwide are getting faster. States around the country have been experiencing record low fatality rates, despite posting speed limits, in some cases 25 MPH faster than the Double Nickel limit imposed in 1975. That has encouraged jurisdictions to continue boosting the legal maximum.

Currently, the top speed crown belongs to Texas and Utah, each of which post 80 MPH on select highways. The Lone Star State adopted the top limit in 2008, but only on rural sections of Interstates 10 and 20. Last week, the Texas Transportation Commission decided that speed studies justified raising the limits on fifty-six miles of the State Highway 45 and State Highway 130 toll roads near Austin.

"The Texas Department of Transportation [TxDOT] has conducted the prescribed engineering and traffic investigations to determine reasonable and safe prima facie maximum speed limits for those segments of the state highway system," the commission order stated.

The new speed takes effect once updated signs are posted. The National Motorist Association has been lobbying lawmakers to boost their limits to better reflect speed at which drivers are traveling. There has been no downside to changing the number on the sign upward.

"The trend by several states to raise selected speed limits recognizes the proven engineering principle that the safest, most efficient patterns are established by letting traffic flow freely at its natural pace," NMA President Gary Biller told TheNewspaper. "Despite drumbeat calls by insurance industry backed groups to lower the speed limits back to 55 MPH, our highways have never been safer. The national highway fatality rate has declined by more than 36 percent, according to NHTSA."

TxDOT's contract with the Spanish and US companies that own the toll routes presumes the higher limit will make the road more attractive and valuable. Had the limit not been raised, TxDOT would have had to lower the speed limit on I-35 near where it runs parallel to SH130 or face an significant financial penalty (view contract excerpt). These non-compete provisions are designed to keep bondholders happy at the expense of other motorists. Following the same principle, the Maryland Transportation Authority is currently conducting studies to raise the speed limit on the Inter County Connector toll road.

A copy of the Texas Transportation Commission's order us available in a 75k PDF file at the source link below.