3/6/2012
Arizona Senate Adopts Photo Enforcement Limitation
Arizona state Senate narrowly rejects photo ticketing referendum, requires private investigator license.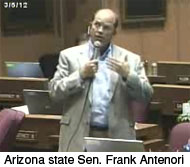 The Arizona state Senate one limitation on photo enforcement while rejecting another. An attempt to let voters decide whether to continue using red light cameras and speed cameras failed on a split 14-14 vote (the bill sponsor switched his vote for procedural reasons), while a measure that would force automated ticketing machine vendors to obtain private investigator licenses passed 17-11.

"This bill basically just requires anyone that is involved with the chain of custody for evidence... or has access to your private information -- driving record, social security number, various other things -- to have a private investigators' license," state Senator Frank Antenori (R-Vail) explained yesterday. "There are folks that handle some very sensitive information and that also handle evidence that aren't required to have any license. All this does is extend that same requirement so that anyone in the chain of custody of evidence involving civil traffic violations would either be required to be a law enforcement officer or have a private investigator's license."

Antenori's bill simply adds photo enforcement employees who handle sensitive motorist data to the existing list of individuals required to obtain a private investigator license. The legislature's Legislative Council believed that such licensing is already mandatory under existing law, even without passage of this bill (view memo). A Texas judge likewise ruled in 2008 that photo ticketing firms should be licensed.

Photo enforcement could have been banned entirely under Antenori's other proposal to ask voters at the next general election to eliminate or keep automated ticketing machines. In Peoria, Arizona, 70 percent voted down speed cameras when the question was placed on the municipal ballot in the 1990s. Automated ticketing has been voted down in 23 of 24 contests since then (view list).

"There have been numerous efforts to try to bring a sense of fairness with regard to photo enforcement," Antenori said. "All of those were opposed by Redflex and ATS, the companies that have a business model... where it is to their benefit to keep the status quo. All this bill does is let the people of the state of Arizona decide."

The initiative measure failed by a single vote, and insiders blamed the defeat on the last-minute switch by Reps. Adam Driggs (R-Phoenix) and Rich Crandall (R-Mesa), both of whom had voted against photo radar in the past. Just last month it was Driggs who moved for passage of the referendum resolution in the Senate Judiciary Committee. American Traffic Solutions (ATS) lobbyist Stan Barnes was tasked with enticing senators to change their votes. The state Senate is expected to take another shot at passing the measure today.

A copy of the private investigator license bill is available in a 25k PDF file at the source link below.