4/7/2011
Kansas Legislature Approves 75 MPH Speed Limit
Kansas to raise rural interstate speed limits to 75 MPH.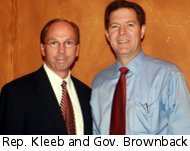 The top legal speed in the state of Kansas is one signature away from becoming 75 MPH. State legislators on Friday gave final approval to a bill raising the limit from 70 to 75 MPH. If approved by Governor Sam Brownback (R), Kansas would join a dozen other states that have already made the move. Only Texas and Utah have a higher, 80 MPH limit.

State Representative Marvin Kleeb (R-Overland Park) argued that the increase was justified because Kansas had the lowest limit of any western state (aside from the coast). Vacationers would be attracted to the friendlier driving atmosphere, spurring economic development, Kleeb argued in a January hearing. The legislation specifies that speeding tickets issued on freeways with the new limit would not be reported to insurance companies unless the police officer indicated the driver's speed exceeded 85 MPH. The Kansas Department of Transportation estimated that pasting "75" over existing 70 MPH speed limit signs would cost no more than $25,000.

When Congress repealed the 55 MPH national maximum speed limit in 1995, the Insurance Institute for Highway Safety predicted thousands of additional lives would be lost each year. The opposite has occurred. Despite states raising limits far beyond the double nickel, the US Department of Transportation announced Friday that road fatalities in 2010 fell to the lowest level since 1949 when systematic records were first kept. Fatalities dropped three percent from 2009 levels to 32,788 killed with 1.09 fatalities per 100 million vehicle miles traveled.

The speed limit increase was added to a catch-all piece of legislation containing several provisions of interest to motorists. The bill also requires that drivers renewing their vehicle registration sign a statement affirming that they will maintain insurance on the car. Motorcyclists will also be allowed to drive through a red light that refuses to change to green "within a reasonable time." Often, signals that are activated by pavement sensors fail to detect motorcycles and stay red. A provision also prohibits municipalities from imposing "court costs" to bulk up revenue from seatbelt tickets which are set by state law at $10.

A copy of the final legislation raising the speed limit is available in an 85k PDF file at the source link below.