9/28/2009
UK Government Admits Traffic Accident Figures Miscounted
UK Department for Transport reports threefold undercount of road accidents during the speed camera era.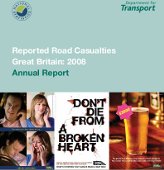 For the past several years, the UK Department for Transport (DfT) has heralded the drop in the number of serious traffic accidents as evidence of the success of its speed camera policies. For the first time, the agency admitted last Thursday that injury numbers have dropped because its statistical method is incomplete. Although DfT reported 230,905 injury accidents took place in 2008, the agency now believes the true number of accidents is actually three times greater.

"Our best current estimate, derived from survey data with cross-checking against other data sources, is that the total number of road casualties in Great Britain each year, including those not reported to police, is within the range 680 thousand to 920 thousand with a central estimate of 800 thousand," Matthew Tranter with DfT's Road Safety Research and Statistics wrote.

In July, the UK Statistics Authority ordered DfT to reform its procedures in light of evidence that the department's data showed far fewer injuries than reported from hospital admission records. The government has placed an emphasis on showing reductions in accidents and injuries as evidence that its road safety strategies have been successful.

"These statistics are used to inform public debate and support policy on road safety," the DfT annual report on road accidents explained.

The British Medical Journal (BMJ) was first to show that, contrary to DfT's former assertion, injury accidents were not decreasing (view 2006 BMJ study). DfT claimed road injury rate fell from 85.9 per 100,000 in 1996 (before cameras) to 59.4 in 2004 (after cameras), but hospital admission records showed that the road injury rate actually increased slightly from 90.0 in 1996 to 91.1 in 2004. The DfT's report last week included a chart showing the discrepancy between hospital records (HES) and the DfT's STATS19 data began in 1997 (view full chart, page 64).

"There is, however, some evidence that the proportion of casualties admitted to hospital and known to police that were misclassified by the police as slightly injured increased marginally between 1999 and 2004," the DfT report stated (page 67).

The governmental focus on using automated enforcement also relies on an exclusive focus on "speeding" as the primary cause of road accidents. The DfT data show that, in fact, exceeding the posted speed limit -- the only factor that can be measured by a speed camera -- rarely causes accidents.

"Exceeding speed limit was attributed to 3 per cent of cars involved in accidents, while traveling too fast for conditions was attributed to 5 per cent," the report stated (page 46). "For fatal accidents these figures are both 8 per cent."

The report admits that traffic calming devices designed to force motorists to reduce their speed in some cases caused accidents. Speed bumps and chicanes killed six motorists and caused 176 accidents, according to DfT figures (page 44).

A full copy of the DfT report is available in a 5mb PDF file at the source link below.