2/23/2009
Congressman Revives Effort to Ban Freeway Tolls
Newly elected US representative introduces legislation to ban the imposition of tolls on existing freeways.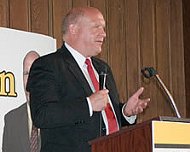 A newly elected member of Congress is leading the effort to ban the imposition of tolls on existing interstate highways. US Representative Glenn "GT" Thompson (R-Pennsylvania) last week introduced HR 1071, the Keeping America's Freeways Free Act, which is designed to prohibit any new efforts to collect tolls on an interstate.

"Tolls are taxes, plain and simple," Thompson said in a statement. "The Interstate Highway System -- the greatest public works project in history -- was built with federal funding to unite our nation. The Interstate Highway System's profound effect upon the American economy has contributed significantly to development and improved quality of life through increased economic efficiency and productivity. The Keeping Americas Freeways Free Act will preserve this notion and allow for the free flowing of commerce not only in Pennsylvania, but across the nation."

Thompson succeeded Representative John Peterson (R), one of the staunchest opponents of tolling in Congress. Thompson vowed to keep up the federal pressure against efforts to allow a foreign corporation to toll Interstate 80, a route that cuts across the Keystone State. Parties with a financial stake in the outcome of the I-80 decision spent millions on a lobbying effort that ultimately failed to persuade the public that tolling was in their interests.

During the campaign, however, Thompson demonstrated that his interest extended beyond I-80 to a more fundamental reform of the transportation funding and earmarking process.

"We need to stop diverting money into the general operating budget of the state from the Pennsylvania road and Bridge Fund," Thompson said on the campaign trail. "Highway money should be spent on highways. We need to focus federal dollars where they are needed -- on the roads and bridges that are most in need of repair -- not in those areas where the most powerful Congressmen happen to live, or where they happen to take an interest."

US Representative Ciro Rodriguez (D-Texas) joined as an original co-sponsor of the freeway tolling ban. It mirrors legislation introduced in the previous Congress by US Senators Kay Bailey Hutchison (R-Texas) and John Cornyn (R-Texas). View the full text of HR 1071 in a 170k PDF file at the source link below.