12/15/2008
US DOT Report Confirms Speed Not Major Accident Cause
US Department of Transportation study finds only five percent of crashes caused by excessive speed.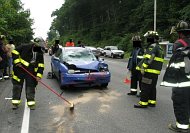 As lawmakers around the country continue to consider speed limit enforcement as the primary traffic safety measure, the most comprehensive examination of accident causation in thirty years suggests this focus on speed may be misplaced.

National Highway Traffic Safety Administration (NHTSA) investigated 5,471 injury crashes that took place across the country between July 3, 2005 and December 31, 2007. Unlike previous studies automatically generated from computerized data found in police reports, researchers in this effort were dispatched to accident scenes before they were cleared. This allowed a first-hand comparison of physical evidence with direct interviews of witnesses and others involved in the incident. NHTSA evaluated the data to determine the factors most responsible for the collision.

"The critical reason is determined by a thorough evaluation of all the potential problems related to errors attributable to the driver, the condition of the vehicle, failure of vehicle systems, adverse environmental conditions, and roadway design," the report explained. "The critical pre-crash event refers to the action or the event that puts a vehicle on the course that makes the collision unavoidable, given reasonable driving skills and vehicle handling of the driver."

Overall, vehicles "traveling too fast for conditions" accounted for only five percent of the critical pre-crash events (page 23). More significant factors included 22 percent driving off the edge of a road, or 11 percent who drifted over the center dividing line.

When driver error was the primary cause of a crash, researchers went further to identify the "critical reason" behind that error. Distraction and not paying attention to the road accounted for 41 percent of the errors. Ten percent of errors were attributed to drivers lacking proper driving skills and either freezing up or overcompensating behind the wheel. Eight percent were asleep, having a heart attack or otherwise incapacitated. A similar eight percent of errors were attributed to driving too fast for conditions and five percent driving too fast for a curve (page 25).

The NHTSA findings are mirrored in accident statistics provided by the Virginia Department of Motor Vehicles. The agency's most recent report lists "speed too fast" as the driver error that caused 2.9 percent of crashes in 2007 (view chart, see page 19). More accidents -- 3.8 percent -- were caused in Virginia by drivers falling asleep or becoming ill behind the wheel. Another 14.6 percent were caused by bad weather such as fog, rain and snow. "Speed too fast" was a more significant factor -- 13.7 percent -- in fatal accidents, as compared to 18 percent of fatal accidents involving alcohol and 9.6 percent caused by sleepiness and fatigue ( view full Virginia report in 1.9mb PDF format).

In the NHTSA and Virginia reports, "too fast for conditions" does not mean exceeding the posted speed limit. A vehicle driving 10 MPH on an iced-over road with a 45 MPH limit would be traveling too fast for the conditions if it lost control, but it would not have exceeded the speed limit. The UK Department for Transport isolated cases where only the posted limit was exceeded and found that, "Exceeding speed limit was attributed to 3 percent of cars involved in accidents" (view UK report).

"Four of the six most frequently reported contributory factors involved driver or rider error or reaction," the Road Casualties Great Britain 2007 report stated. "For fatal accidents the most frequently reported contributory factor was loss of control, which was involved in 35 per cent of fatal accidents."

A full copy of the NHTSA report is available in a 400k PDF file at the source link below.