11/3/2008
Virginia to Consider Per Mile Driving Tax
Virginia legislature could begin study of per-mile driving taxes in 2009.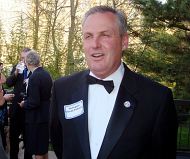 A member of the Virginia House of Delegates last week introduced legislation that would create a system to track the driving habits of Virginia motorists, imposing a tax on every mile driven. Delegate David Poisson (D-Loudoun) argues that his measure should be adopted by the legislature's 2009 session because he believes gas tax revenue is dwindling.

"Inflation and escalating construction costs have severely eroded the purchasing power of fuel-tax revenue," Poisson said in a statement. "At the same time, tax receipts are dropping as soaring gas prices and a weak economy reduce traffic volume. When people do drive, it is in more fuel-efficient cars, which only makes our revenue problems worse. Clearly, we can't continue this way."

According to the latest available state data, gas tax revenue was down 1.5 percent in the current fiscal year compared with last year. However, gas tax revenues -- about $900 million per year -- continue to climb when compared to previous years. Current year collections were up 2.6 percent compared to fiscal 2007, despite gasoline prices that were 75 cents per gallon more expensive. Even the 1.5 percent drop in motor vehicle fuel excise tax collections had little effect on total transportation fund revenues. Thanks to increases in other fees and taxes, overall collections were up 13.9 percent for the year. ( View latest tax collection data in a 450k PDF.)

Nonetheless, state lawmakers and Virginia Department of Transportation (VDOT) officials have embraced the tolling concept, agreeing in June to add toll lanes to the Capital Beltway (view details). The tolls on this project will rise and fall based on congestion levels, a key element in Poisson's proposal. A private consortium headed by Transurban will operate the toll lanes for a significant profit. To help advance its US plans, the Australian company gave $179,000 in illegal campaign contributions to legislators and Governor Tim Kaine (D). Transurban also spent $596 on dinners with a handful of key lawmakers including House Speaker William J. Howell (R) and Senate Majority Leader Richard L Saslaw (D).

If supported by these lawmakers, Poisson's measure would create a joint subcommittee of the legislature that would decide by November 2009 how best to create new per-mile taxes or congestion charges. The legislature would then vote on the plan in the 2010 session.

Poisson introduced a separate measure, House Bill 1590, that makes rush hour toll payments tax deductible. In effect, this lowers the price of driving for in-state motorists and raises the cost of driving for out-of-state motorists.

A full copy of House Joint Resolution 626 is available in a 28k PDF file at the source link below.