9/6/2008
Washington Freeway Speed Cameras to Begin Ticketing
Washington state DOT officials announce the kickoff of a statewide speed camera program.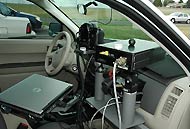 The Washington State Department (WSDOT) will unleash its freeway speed cameras in the southwest portion of the state on Monday, September 15. WSDOT officials held a kickoff event in Chehalis on Friday to announce the date that ticketing will begin. The cameras will first appear in white Ford SUVs parked on the side of the road in a work zone on Interstate 5 south of Chehalis.

"Along with our Washington State Patrol partners, we place a high priority on highway safety," WSDOT State Traffic Engineer Ted Trepanier said. "The automated traffic safety cameras are just part of the highway safety program."

This program is designed to generate millions in revenue from $137 citations generated by the fully automated vans. Washington officials neglected to mention that ATS, an Arizona-based vendor, is the primary partner in charge of all aspects of the ticketing process in exchange for a significant portion of the revenue.

Washington officials also declined to disclose the speed at which cameras will trigger a violation notice. Instead, this will change over time to generate the precise number of citations desired, depending on the locations where the cameras operate. The WSDOT program may face significant political opposition if it continues to operate after voters adopt Initiative 985 (view details) in November. The measure will force cities operating local photo radar programs to turn over all revenue to a congestion relief fund -- preventing municipalities from using the program as a source of revenue. Five cities have already dropped photo ticketing plans as a result.

Illinois was the first state to begin operating speed cameras on a statewide basis, followed by Arizona. Over the past five years, fatal collisions in Washington work zones have declined 41 percent without any photo enforcement.