8/7/2008
London Admits Congestion Charge Failure
Transport for London reports congestion charging has failed to deliver congestion reduction to motorists paying $16 a day to enter the city.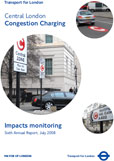 Motorists in London, England last year paid £268 million (US $536 million) in charges and penalties imposed in the name of congestion reduction. According to the sixth annual Transport for London Impacts Monitoring report released yesterday, these massive payments have left drivers no better off than they were before the charge was implemented.

"The absolute level of congestion during 2007 was effectively identical to the representative value for conditions before the scheme was introduced in 2002," the report stated. "In other words, journey times inside the zone during 2007 were comparable to those prior to charging."

Figures show that in the first four months of this year, and in all of 2007, the primary congestion measurement -- the mean excess travel rate -- was 2.3 minutes per kilometer. This figure is identical to the rate measured in 2002, before charging began.

"I have always thought that the Congestion Charge is a blunt instrument," London Mayor Boris Johnson said in a statement. "I am therefore introducing a more comprehensive approach to easing congestion in London, one that gives greater consideration to how all transport measures impact on the movement of traffic on our roads."

Johnson noted that the report showed an increase in congestion despite an overall 16 percent reduction in the number of vehicles entering the city. The reduction in volume was offset by reductions in capacity caused by intentional and unintentional effects of policy decisions. Unintended side effects included construction projects that caused significant delays and backups. Intentional policies included "pedestrian, cyclist and bus priority measures" that Johnson's predecessor, Ken Livingstone, introduced as a means of discouraging motorists. Livingstone's goal was to make it more difficult and expensive to drive in London. In addition to taking lane space away from drivers to create bus only lanes, for example, Livingstone planned to impose a £25 (US $50) CO2 tax on high-performance cars vehicles and family vehicles while exempting certain hybrids.

"I have scrapped the CO2 Charge that risked thousands of small cars flooding central London, and have asked Transport for London to bring forward a range of measures to turnaround the trend and halt the squeezing of road space that has continued to worsen congestion," Johnson said.

The cost to operate the complicated motorist tracking and charging system was £131 million (US $262 million) last year. Drivers paid £195 million (US $390 million) in congestion charges, leaving a profit of just £64 million (US $128 million). On top of this amount, however, motorists paid £73 million (US $146 million) in penalty tickets leaving the system with a net profit of £137 million (US $274 million) on total revenues of £268 million (US $536 million).

Nearly all of this profit was spent on buses, speed cameras and environmental projects. Only £13 million (US $26 million) was spent strengthening bridges or resurfacing roads. A full copy of the report is available in a 1.6mb PDF file at the source link below.