7/3/2008
New Jersey to Double Toll Existing Toll Roads
Plan would add new toll lanes within existing toll road network in New Jersey.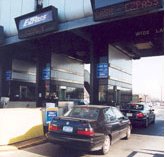 A key lawmaker thinks paying just one toll might not be enough for drivers on the New Jersey Turnpike and Garden State Parkway. WCBS-TV reports that state Senate President Richard Codey is proposing new toll lanes be added to these existing toll roads, creating special double-toll lanes within a toll road. Those willing to pay only $1.70 would sit in congestion from Exit 8A to Exit 6 on the Turnpike, for example, but those who hand over $3.40 could enjoy the chance of a quicker journey in newly constructed lanes.

"My idea is to let a private company come in," Codey told WCBS. "There will be signs telling where there's congestion and where there's not and you make a decision and then continue on the old part of the road where there's no toll increase or take that new section for a while where there would be an increase."

Codey's plan would be to start with a demonstration project before expanding to cover more of the state's toll roads with extra tolls.