1/8/2008
Camera Vendor Under Investigation for Mail Fraud
United States Postal Inspection Service collects evidence to determine whether photo enforcement vendor violated mail fraud statutes.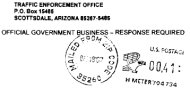 Redflex, an Australian company that operates red light cameras and speed cameras for more than 170 US cities, is under scrutiny by the United States Postal Inspection Service. Stephanie Ware, a private investigator in Lafayette, Louisiana, filed a complaint with the federal agency after she received a ticket in the mail in November.

"It was for my sixteen-year-old daughter but it stated that since I own the vehicle, I must pay," Ware explained to TheNewspaper. "I was not going to pay it and I didn't."

Ware then received a default notice from Redflex's office in Scottsdale, Arizona. The envelope was labeled: "Official Government Business: Response Required" (view envelope). Ware said that the letter contained inside amounted to an extortion demand.

"Inside it said that I failed to pay the invoice and because of that I gave up my right to contest it," Ware said. "No grace period -- send the money now or we can sue you, immobilize your vehicle or report you to a collection agency." (View letter)

The use of the phrase "official government business" on an envelope by a non-governmental entity raises red flags for the US Postal Service and could violate a statute prohibiting mail that implies a false connection with the federal government as (39 USC Section 3001).

KVOL radio talk show host Todd C. Elliott set up a website to assist anyone who has received a citation in the mail from Redflex in forwarding a copy to the postal inspector as evidence. The website can be found at: ReportRedflex.com

The Louisiana State Board of Private Investigator Examiners is also currently investigating whether Redflex has violated a state law requiring private investigator licenses for anyone in the business of providing photographic evidence for use in court cases.