8/23/2007
Pennsylvania to Impose $25 Tax on Driving Across State
Pennsylvania seeks approval to charge motorists a $25 toll to drive the length of Interstate 80.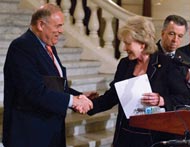 Motorists traveling across the state of Pennsylvania on Interstate 80 could pay a $25 tax by the year 2010. The Pennsylvania Turnpike Commission on Friday asked the US Department of Transportation for approval to turn the free and paid-for interstate highway into a toll road for the purpose of raising money for mass transit and other public spending projects. This would be the first conversion of a free interstate into a toll road since the interstate highway system was developed fifty years ago.

"The tolling program would generate revenues allowing a dramatic increase in capital investment along I-80, with an additional $1 billion being spent over the next decade, above and beyond PennDOT's historic 'baseline' funding levels," the tolling application stated.

I-80 runs 311 miles east to west across the state, primarily through rural areas. Since the 1970s, I-80 has provided the shortest route from New York to Chicago and become a vital commercial route. Governor Edward G. Rendell (D) last month signed a law authorizing the toll, but because the highway was built with federal funds, federal approval is needed. If granted, the Turnpike Commission plans to add ten E-ZPass electronic tolling booths to collect $25 from motorists at the rate of 8 cents per mile, while trucking traffic would face a $150 tax each way across the route. These fees would likely rise to $31 for cars and $200 for trucks soon after the implementation of tolling, raising the cost of shipping goods by truck by $400 per round-trip.

Ultimate approval of the plan remains in doubt, however. In July, the US House of Representatives approved a transportation funding measure containing language that would ban tolling on Interstate 80. Representatives John Peterson (R-PA) and Phil English (R-PA) inserted the language which has not been approved by the Senate and faces an uphill battle against the US Department of Transportation which has been bankrolling efforts to impose new fees on motorists.

"This is by far the largest move yet to toll an existing free interstate which was built originally and since maintained with tax based grants," the editor of Toll Roads News wrote. "If successful it may encourage other states to toll their interstates to generate the urgently needed funds not presently available for enhancing major highways."

The proposal is available in an 82k PDF file at the source link below.